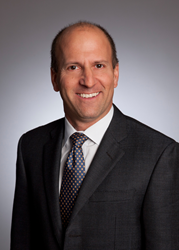 John personifies the qualities that ADL honors in every aspect of his life – in business, through civic duties and within the community.
Chicago, IL (PRWEB) January 22, 2016
The Anti-Defamation League (ADL) of Chicago honored John Goodman, Executive Vice President of Savills Studley, with the Arthur Rubloff Humanitarianism Award at its 2015 Awards Gala held in December at the Palmer House in Chicago. The prestigious honor recognizes individuals in the real estate industry who demonstrate exceptional commitment to both business and philanthropy leadership.
"John's humble dedication to bettering the community has earned him the respect of his peers in the business community," said Lonnie Nasatir, Regional Director of the Anti-Defamation League Chicago/Upper Midwest Region. "He personifies the qualities that ADL honors in every aspect of his life – in business, through civic duties and within the community."
Goodman, a 30-year veteran of the Savills Studley Chicago office, has completed more than 20 million square feet of real estate transactions for major corporations valued at more than $5 billion. He served as co-head of the firm's office for more than 25 years, was a longstanding member of Savills Studley's board of directors and its executive committee and continues to play a key leadership role within the company.
In addition to serving as a board member of both the Anti-Defamation League of B'nai B'rith and SGA Youth and Family Services, Goodman established the Chicago office's Community Involvement Committee. Goodman and the committee have spearheaded the Savills Studley Landlord Challenge for 10 consecutive years, bringing together the local commercial real estate community for a day of golf and fundraising. To date, the event has raised close to $1.5 million for numerous organizations focusing on serving the needs of underprivileged children in the community. Beneficiaries include Boys Hope Girls Hope, San Miguel School and Sinai Children's Hospital.
"It is important for business professionals to set a precedent and hold ourselves responsible for the well-being of the community at large," said Goodman. "ADL reminds us that this is one of our most cherished rights and privileges of our citizenship. I am honored to be recognized."
Mark Hoppe, President and Chief Executive Office of MB Financial Bank was also honored that night, with the ADL Americanism Award.
About Savills Studley
Savills Studley is the leading commercial real estate services firm specializing in tenant representation. Founded in 1954, the firm pioneered the conflict-free business model of representing only tenants in their commercial real estate transactions. Today, supported by high quality market research and in-depth analysis, Savills Studley provides strategic real estate solutions to organizations across all industries. The firm's comprehensive commercial real estate platform includes brokerage, project management, capital markets, consulting and corporate services. With 27 offices in the U.S. and Canada, and a heritage of innovation, Savills Studley is well known for tenacious client advocacy and exceptional service.
The firm is part of London-headquartered Savills plc, the premier global real estate service provider with over 30,000 professionals and over 600 locations around the world. Savills plc is listed on the London Stock Exchange (SVS.L).
For more information, please visit http://www.savills-studley.com and follow us on LinkedIn and Twitter @SavillsStudley.
About ADL
The Anti-Defamation League was founded in Chicago in 1913. Today, the Greater Chicago/Upper Midwest regional office continues to carry out its original mission -fighting anti-Semitism and all forms of bigotry, securing justice and fair treatment for all. With an array of educational, legislative, diplomatic, and interfaith initiatives, our office acts as an important resource for the community at-large.
Our staff of 18 represents both regional and national personnel. We are supported by a regional board of 220 members, various committees members, volunteers and educational professionals, who regularly work with us to help carry out our mission. Under the leadership of Regional Director, Lonnie Nasatir, we provide programs and services to the diverse and dynamic citizens of Illinois, Indiana, Wisconsin, Minnesota, North Dakota and South Dakota.
# # #