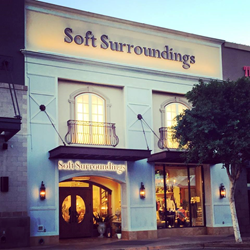 "We are thrilled to be opening as many as fifteen new locations this year around the nation," - Senior Vice President - Retail, Danny Boddy
St. Louis, MO (PRWEB) February 02, 2016
Soft Surroundings, a leading multi-channel retailer committed to providing stylish, casual clothing with a comfort fit, the latest in beauty and skincare, jewelry and accessories, and globally-inspired home furnishings to women of all ages, maintains its dedication to providing an extraordinary shopping experience by announcing plans to open as many as fifteen new retail locations in 2016. Among the new markets Soft Surroundings is confirmed to expand to include Greensboro, North Carolina; Austin, Texas; Birmingham, Alabama; and Charlotte, North Carolina, which is scheduled to be the first store to open in 2016, slated for mid-March. Additionally, Soft Surroundings will be adding stores in existing market areas, including Chicago (Naperville and Orland Park), Cleveland (Lyndhurst), and Denver (Broomfield). Additional markets will be announced in the near future.
"We are thrilled to be opening as many as fifteen new locations this year around the nation," said Senior Vice President - Retail, Danny Boddy. "This year represents the single largest period of retail expansion to date; a milestone in our history and growth of our organization. We feel strongly that Soft Surroundings is a brand that all women can relate to and we are excited to give them an opportunity to experience what we are all about. Our passion for customer service and the integrity of our brand gives us the ability to share our story and hopefully make our customers' lives a little more fulfilled and enjoyable."
The new locations will not only feature the popular merchandise found in the Soft Surroundings catalogs and website, but also offer customers a variety of unique, store-exclusive merchandise to further enhance their shopping experience.
About Soft Surroundings: Headquartered in St. Louis, MO, Soft Surroundings is an upscale lifestyle brand and retailer of women's apparel, home, and beauty products. Releasing its first catalog in 1999, Soft Surroundings has been dedicated to making women look and feel their best ever since. Having experienced record growth in its online and catalog channels, Soft Surroundings opened its first retail location in St. Louis, MO in November of 2005, followed by additional stores in Hartford, CT; Kansas City, MO; Chicago, IL; Denver, CO; San Antonio, TX; Houston, TX; Dallas, TX; Boston, MA; Philadelphia, PA; Atlanta, GA; Richmond, VA; Fairfax, VA; Madison, WI; Paramus, NJ; Bridgewater, NJ; Memphis, TN; Portland, OR; Seattle, WA; Cleveland, OH; Annapolis, MD; Tucson, AZ; Scottsdale, AZ; and Chandler, AZ. Soft Surroundings is continuing to expand its retail division nationally to meet the needs of its many devoted customers. Visit Soft Surroundings online at http://www.softsurroundings.com.