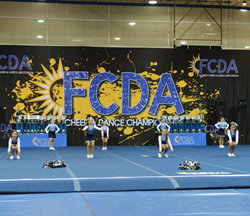 "The "Starlights" and their accomplishment reflect yet another hallmark of City athletic programs and services."
Sunny Isles Beach, Florida (PRWEB) January 22, 2016
Call them talented, call them spirited, or call them extremely loud, you may also call them winners – as in three consecutive 1st place award winners! Once again, the City of Sunny Isles Beach Advance Cheer & Dance Team is recognized as one of the best of the best.
On January 9, 2016 the Sunny Isles Beach Cheer Team, "Starlights" won best Mini Recreation Cheer & Dance Team in this year's Florida Cheer & Dance Association's, East Coast Challenge Competition. This is the third year the team has achieved the first place ranking. These young ladies were judged on choreography of the routine, which includes: synchronization of jumps, tumbles, cheers and stunts. Athletics Coordinator Lester Alexander says, "The "Starlights" and their accomplishment reflect yet another hallmark of City athletic programs and services." Congratulations is extended to the team members, parents and the coaches for putting in the time and hard work to reach the goal.
Adult Pickleball is now offered at RK Sports Center and Pelican Community Park. Pickleball is a miniature form of tennis that is growing in popularity for good reason. Pickleball is easy to learn, challenging and lots of fun. Play as single or doubles. Come join the fun! For registration and more information about sport and wellness programs currently offered, call or visit Pelican Community Park at 18115 N. Bay Road. (305) 792 – 1706.
For information about all offerings from the City go to the official City website at sibfl.net, watch SIBTV, read the Living Magazine & the Islander mailer, or follow the City on Twitter & Instagram (@CityofSIB), and on Facebook (City of Sunny Isles Beach). For inquiries regarding classes, programs or events please contact Cultural and Community Services at 305.792.1706.