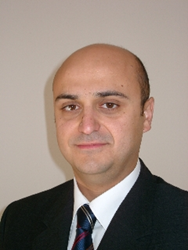 "The experience and leadership that Juan brings further lays the foundation for Soligent's rapid expansion. We're thrilled to have Juan on the team."
Rohnert Park, CA (PRWEB) February 10, 2016
Soligent Distribution LLC., the largest pure play solar distributor and end-to-end enablement platform in North America, has named Juan Romera-Wade as the company's Chief Commercial Officer. Juan heads Soligent's sales, marketing, and commercialization, and leads the company's strategic expansion.
Juan has extensive experience in leadership, most recently as the CEO of Krannich Solar for North America, where he successfully established Krannich's North American division, growing profitable partnerships with global vendors and developing the necessary internal capabilities to achieve exponential and sustainable growth both in revenues and EBIT. Prior to this, Juan held leadership positions at Krannich Solar in Europe, served as UK Managing Director for Polaris World Developments and was the EMEA Marketing Communications Manager for AGCO Corporation.
Jonathan Doochin, CEO of Soligent, said, "The experience and leadership that Juan brings further lays the foundation for Soligent's rapid expansion. We're thrilled to have Juan on the team."
About Soligent:
Soligent Distribution LLC. is the largest pure play solar distributor and end-to-end enablement platform in the Americas, supplying over 5,000 solar installers with equipment, financing, and software they need to accelerate the adoption of solar while making their businesses more competitive and profitable. Soligent has been a pioneer in the solar industry for decades and continues to drive the market forward with innovative solutions ranging from materials management to project financing. Headquartered in Northern California, Soligent provides solutions to help local and regional dealers grow. With advanced training, residential and commercial project financing, multi-site distribution centers in New Jersey, Northern and Southern California, Soligent is well positioned as a responsive, flexible solar partner. For more information, visit http://www.soligent.net or call 1-800-967-6917.