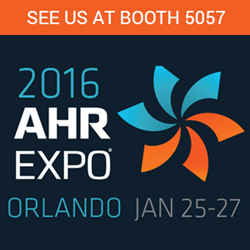 With more than 1,200 HVAC customers, Viewpoint offers products that are widely adopted by the industry.
Orlando, FL (PRWEB) January 25, 2016
Viewpoint Construction Software, a leading provider of innovative software solutions to the construction industry, will be showcasing its latest line of products for HVACR professionals at the 2016 AHR Expo, Jan. 25-27, 2016, Booth 5057. Held this year at the Orange County Convention Center in Orlando, FL, AHR Expo is the world's largest HVACR Marketplace, bringing together over 2,000 exhibiting companies and 40,000 visitors. Attendees represent the entire spectrum of the industry including HVACR manufacturers, engineers, contractors, OEMs, and facility managers.
"Viewpoint understands the specific needs of the HVACR community, and our products help these contractors provide superior mechanical and electrical contracting services across the country," stated Matt Harris, Senior Vice President of Products at Viewpoint. "With more than 1,200 HVAC customers, Viewpoint offers products that are widely adopted by the industry. Our products provide the functionality and ease-of-use they need to better serve their customers and grow their businesses."
Viewpoint will showcase the following products at the conference:

Vista™ by Viewpoint – an integrated, comprehensive suite of Job Cost Accounting, Project Management, Service Management, Resource Management, and more that helps manage all areas of operations.
ProContractor™ by Viewpoint– the industry's only all-in-one software solution for estimating, project management, and accounting to manage the entire project lifecycle from bid to cash.
Viewpoint MEP Estimating – a fast and accurate takeoff and estimating solution tailored to the needs of HVAC contractors to help lower costs associated with estimating and winning jobs.
About Viewpoint Construction Software
Viewpoint is a provider of innovative construction-specific software solutions to the global construction and capital project industries. Viewpoint provides the tools they need to improve project profitability and visibility, manage risk, and effectively collaborate with the entire project team. Viewpoint solutions include everything needed from preconstruction to construction and facilities maintenance, and are offered on a variety of platforms, including Cloud, Mobile, SaaS and On Premises. Headquartered in Portland, Oregon, USA, and with offices in the UK and Australia, Viewpoint has become the technology partner of choice, with customers located across the globe in more than 28 countries. These customers include more than 40 percent of the ENR 400, and over 20 percent of the ENR 600. For more information, please visit http://www.viewpoint.com.
© 2016 Viewpoint, Inc. dba Viewpoint Construction Software. All Rights Reserved. Viewpoint®, Viewpoint Construction Software®, Vista™ by Viewpoint, ProContractor™ by Viewpoint, Viewpoint For Content Management™, Viewpoint For Mobile™, Viewpoint For Projects™, Viewpoint For Field View™, Viewpoint For Estimating™, and Jobpac by Viewpoint are trademarks or registered trademarks of Viewpoint, Inc., in the United States and/or other countries. Other names and brands may be claimed as the property of others.