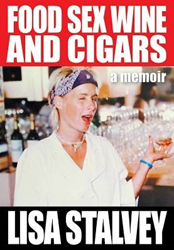 "This memoir allows readers to see behind the scenes of the restaurant business, but it is also important in human terms." - Robert Fletcher, CEO, Strategic Book Publishing and Rights Agency
(PRWEB) January 25, 2016
"This is my account of being a woman in a male-dominated industry, complete with a complicated relationship with food and a man, resulting in a long self-destructive streak. I have been cooking for 38 years professionally, including an apprenticeship in 1980 with Wolfgang Puck, ultimately becoming his head chef at Spago, Sunset."
Lisa Stalvey has quite a story to tell. At age 24, she was pretty, thin, engaged to be married, and working as a line cook at Ma Maison among Hollywood's elite. But it all came to a screeching halt in 1980, when she severed three fingers on her right hand in an industrial Cuisinart at work. But another traumatic event happened three months prior, which was the real reason behind her anorexia. Lisa discovered this from her writing, causing her to finally mourn. "As I was being rushed to the hospital staring at three of my severed fingers floating in ice water, I couldn't believe what just happened."
She tells how she survived the most difficult period of her life: suffering from anorexia and living with a disability. Lisa slowly began to heal, though it took almost 31 years. Her life story travels from the depths of despair to maintaining a successful career.
Watch the video at: https://www.youtube.com/watch?v=ssiPMybUayc&feature=youtu.be
"I can't wait to read anything that she writes." – Marc Vetri, Philadelphia restaurateur, named one of the Top Ten Chefs in America
"Lisa was a big part of L'Orangerie's success, compliments from Johnny Carson to Catherine Deneuve and everyone else in between." – Latifa Franco, award-winning chef
"This memoir allows readers to see behind the scenes of the restaurant business, but it is also important in human terms. We are thrilled to announce its release." – Robert Fletcher, CEO, Strategic Book Publishing and Rights Agency
About the Author: Professional chef Lisa Stalvey has cooked for some of the most famous people in the world. Currently, she owns and runs two catering businesses, Malibu Catering and The Malibu Chef in Malibu, California. She grew up on the west side of Los Angeles, and now lives in Calabasas, California.
FOOD, SEX, WINE AND CIGARS: A MEMOIR (e-Book ISBN: Kindle ISBN: 978-1-68181-202-1, eBook ISBN: 978-1-68181-198-7) is available for $9.99 at http://epubco.com/shop/products/food-sex-wine-and-cigars-a-memoir-by-lisa-stalvey/ and in multi-formats for other e-Readers through numerous vendors online.
The hard cover version (ISBN: 978-1-63135-363-5, $30.95) can also be ordered through the publisher's website: http://sbprabooks.com/LisaStalvey or at Amazon.com or Barnesandnoble.com.
WHOLESALERS: This book is distributed by Ingram Books and other wholesale distributors. Contact your representative with the ISBN for purchase. Wholesale purchase for retailers, universities, libraries, and other organizations is also available through the publisher; please email bookorder@sbpra.net.