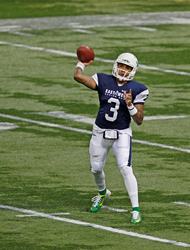 St. Petersburg, Fla. (PRWEB) January 23, 2016
In an exciting all-star matchup that seemed to have something for everyone, a pair of Florida Gators made interceptions in the first quarter, a Wisconsin safety picked off a pass by an opposing quarterback from his own school, the West scored four times in the second quarter and the second half was a defensive struggle. But there were still two performances that stood out.
Oregon quarterback Vernon Adams, Jr. accounted for more than 200 yards of offense earning The William H. Coffman Award for Most Outstanding Offensive Player. He led the West squad of all-stars on drives resulting in three touchdown passes and a field goal while going 6-for-9 passing for 191 yards (including a 93-yard strike to Purdue receiver Danny Althrop in the second quarter to take the lead for good.) Adams also rushed twice for 24 yards.
The E. Jack Spaulding Award for Most Outstanding Defensive Player went to Wisconsin safety Mike Caputo, who grabbed two interceptions, returning one 67 yards to set up a West 24-yard field goal to end the first half.
About the Most Outstanding Player Award Namesakes: E. Jack Spaulding was a captain in the U.S. Navy and was one of the organizers of the first East-West Shrine Game. William H. Coffman was the managing director of the East-West Shrine Game for 40 years.
About the East-West Shrine Game: The East-West Shrine Game is the longest-running college all-star football game in the country and features some of the highest-rated players in the projected NFL draft ranking. While the teams are divided by East and West, the players come together for the beneficiary of the event, Shriners Hospitals for Children. Learn more at http://www.shrinegame.com.
About Shriners Hospitals for Children: Shriners Hospitals for Children is changing lives every day through innovative pediatric specialty care, world-class research and outstanding medical education. The 22 hospitals in the United States, Canada and Mexico provide advanced care for children with orthopedic conditions, burns, spinal cord injuries, and cleft lip and palate. Shriners Hospitals for Children is a 501(c)(3) nonprofit organization and relies on the generosity of donors. All donations are tax deductible to the fullest extent permitted by law. To learn more about Shriners Hospitals for Children, please visit http://www.shrinershospitalsforchildren.org.