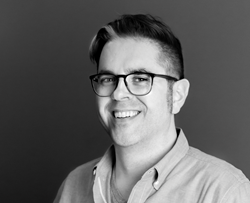 Cincinnati, OH (PRWEB) January 27, 2016
Digital agency Rockfish has promoted Jason Bender to the position of Chief Creative Officer (CCO), effective Jan. 1, 2016. Bender is the first CCO in agency history and is based in Rockfish's Cincinnati office.
Speaking about his new role, Bender noted, "I'm honored to step into this role and excited for our future at Rockfish. I joined Rockfish nearly four years ago because I saw the power and potential of being a digital innovation partner for clients. We've always delivered strong strategic thinking and technological chops; now creative is playing a larger role within the digital innovation mix. I believe that building the right creative organization—a combination of trailblazing ideas and world-class craftsmanship—is the key to doing it bigger and better. That's how we'll continue to deliver innovations that work for end-users, for consumers, and for brands."
Bender has held the position of Executive Creative Director at Rockfish since July 2012, leading multiple award-winning creative efforts for clients including Ford, Walmart, Mars, and other major brands. A published thought leader on design and innovation, Bender has spoken at numerous industry events, including the HOW Design conference.
Before joining Rockfish, Bender was VP, Creative, at Empower MediaMarketing. Earlier, he spent nearly 10 years at POSSIBLE as Executive Creative Director—where he won P&G's first gold Cyber Lion at Cannes. Bender's other awards include CLIO, Webbys, ADDYs, and more.
"Jason Bender has established himself as a creative leader within the industry and with some of the world's biggest brands," said Rockfish CEO Kenny Tomlin. "In his time at Rockfish, he has raised the level and profile of our creative output for existing clients, and helped drive our growth through new business wins. As the importance of creative inside our own business has grown, we thought it was time to name our first CCO. I'm confident Jason will continue to help Rockfish innovate and grow."
About Rockfish
Rockfish is a digital innovations partner that drives business for some of the world's leading brands. We build groundbreaking digital solutions that drive business results through expert integration of strategy, creative and technology. Founded in late 2005, Rockfish has offices in New York, Chicago, Dallas, Austin, Cincinnati, Atlanta, Minneapolis, Northwest Arkansas, Portland and San Francisco. Rockfish is part of WPP, the world's largest and most highly regarded communication services group with over 188,000 employees globally. For more information, visit RockfishDigital.com.