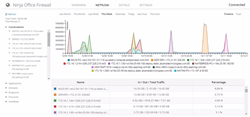 "Network management is a huge pain point for MSPs," said Salvatore Sferlazza, founder of NinjaMSP. "We are excited to team up with Dell to solve this problem for our customers."
San Francisco, CA (PRWEB) January 26, 2016
NinjaMSP, a leading provider of SaaS-based remote management technology, today announced the launch of Ninja Network Monitoring System (NinjaNMS), a SaaS-based network management system fueled by Dell PacketTrap technology. NinjaNMS provides SNMP monitoring, traps, syslog and Netflow traffic analysis, enabling MSPs to more easily and comprehensively manage network devices. It provides MSPs a 360-degree view of their customers' application infrastructure, including network, cloud, and endpoints.
NinjaNMS is an ideal complement to the NinjaRMM offering, a SaaS-based remote management and monitoring platform that provides an eco-system based approach to IT management, integrating all the products managed service providers love to use via a single pane of glass. With the two product offerings, NinjaMSP is now armed with the most robust network management capability in the MSP/IT solution provider space, and in conjunction with Dell, offers a compelling upgrade path for existing PacketTrap customers. The new upgrade program provides PacketTrap users seamless access to an advanced and comprehensive monitoring solution that meets the needs of the modern MSP.
"Network management is a huge pain point for MSPs," said Salvatore Sferlazza, founder of NinjaMSP. "We are excited to team up with Dell to solve this problem for our customers."
Designed for MSPs, the Ninja platform offers an easy and simple to use web interface that includes zero training time, one-click drill down with integrated search as well as one-click remediation. With 360 degree monitoring, Ninja gives MSPs a measurable way to provision, monitor and manage their infrastructure.
"Today's MSPs require a new breed of cloud-enabled technology solutions that allow them to holistically monitor and manage their customers' IT infrastructure," said Greg Davoll, director of product management, database management, Dell Software. "With the availability of NinjaNMS, PacketTrap customers now have an immediate upgrade path to a next-generation RMM and NMS solution fueled by the PacketTrap technology on which they've come to depend."
Pricing and Availability
NinjaNMS and NinjaRMM are currently available. For more information regarding pricing, please contact sales@ninjamsp.com. For additional information regarding the Dell PacketTrap Upgrade Program, please visit http://www.ninjamsp.com/packettrap/
About NinjaMSP
NinjaMSP is a Silicon Valley based company that has a wealth of experience building products for MSPs. Our team have backgrounds at Dell, Quest Software, Sonicwall, PacketTrap, GFI, ThreatTrack Security, CA, LassoLogic and Anchor. The solutions offered by NinjaMSP,
NinjaRMM and NInjaNMS, deliver next-generation RMM experiences with best-in-breed integrations. Additional resources can be found at http://www.ninjamsp.com.