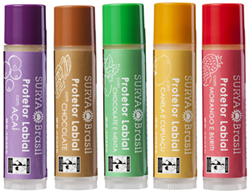 Since launching Surya Brasil, we've made it our mission to create the most natural and sustainable cosmetics and we feel that we should be equally commited to providing to our Kashrut-abiding consumers as well
New Hyde Park, NY (PRWEB) January 26, 2016
It's been said that over the course of a lifetime, a single person can ingest anywhere from three to seven pounds of lip balm. For those that keep Kosher, this can be an alarming fact, as many balms on the market contain ingredients that can compromise their diet. Surya Brasil, a world-renowned leader in certified organic and vegan cosmetics, is proud to offer a collection of lip balms that are not only vegan-friendly, but abide by Kosher law as well.
Each of Surya Brasil's 100% natural and Vegan Moisturizing Lip Balms have been certified as Kosher by Rabbi A. Adler of Kashrus & Medicine Information Services. "Similar to following a vegan lifestyle, I know just how important it is for those who keep Kosher to strictly adhere to their diet," says Wanda Malholtra, CEO of Surya Brasil. "Since launching Surya Brasil, we've made it our mission to create the most natural and sustainable cosmetics and we feel that we should be equally commited to providing to our Kashrut-abiding consumers as well, starting with a lip treatment that won't hinder their lifestyle."
Rich in nutrients, the Vegan Moisturizing Lip Balms are beeswax free and keep lips soft, smooth and perfectly hydrated. Handcrafted with superior rainforest emollients and organic ingredients including sunflower oil, Fair Trade Certified Cocoa Butter and jojoba seed oil, these treatments come in five delicious flavors inspired by Surya Brasil's commitment to organic ingredients and sustainably harvested botanicals:

Acai Berry
Cinnamon Cupuacu
Strawberry Buriti
Chocolate
Mint Chocolate
Surya Brasil's Vegan Moisturizing Lip Balms retail for $3.49 each and are available for purchase online via http://www.suryabrasilproducts.com.
About Surya Brasil
Surya Brasil is a Brazilian company leader in natural, organic and vegan cosmetics. Fully committed to environmental preservation, animal welfare and environmental responsibility, Surya Brasil is notably recognized for its vegan hair coloring, vegetable-based, with high performance and natural formulations sold in over 40 countries. The products contain organic ingredients and are free of animal components and testing, with the aim of combining nature with technology to provide beauty with health. Its national and international certifications such as Ecocert, Cruelty Free, Vegan, Cosmetique Bio, Fair Trade and ISO 22176: 2007, confirm with transparency and credibility of the benefits and advantages of its cosmetics line.
For more information, please visit http://www.suryabrasilproducts.com.
###