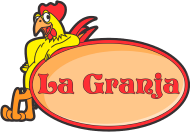 Apopka, FL (PRWEB) January 26, 2016
La Granja Restaurants is growing again. La Granja has opened a new Peruvian family style restaurant location to serve the Apopka community at: 3352 East Semoran Blvd, Apopka, Florida 32703. This makes the third La Granja restaurant location to open in central Florida, expressly to meet the high demand of La Granja's loyal patrons. Serving their authentic Peruvian food dishes that La Granja's devoted customers enjoy, La Granja's new Apopka restaurant location offers a healthy and delicious alternative for dining out in the area.
With a wide-ranging menu of mouthwatering Peruvian food dishes prepared fresh from scratch daily, those on the go can enjoy La Granja's mouthwatering Pollo a la Brasa on their lunch break, or enjoy a plentiful, lunch sized portion of another delicious Peruvian food specialty starting at under $5.00. Busy Floridians can also bring the family into La Granja's new Apopka Peruvian family style restaurant at the end of a long day for a savory and nutritious dinner, or pick up some authentic Peruvian delights to go and enjoy them at home.
Peruvian Family Style Restaurant: La Granja Apopka offers family style dining at affordable prices. Central Florida loves La Granja.
In addition to serving up flavorful, slow-cooked Peruvian cuisine to this central Florida community, La Granja Apopka offers affordable prices in a family friendly atmosphere. Plus, La Granja is ready to make dinner a breeze any night of the week. La Granja knows how to appeal to Floridian families by offering full wait staff service after 4 pm, and a wide variety of menu options that are guaranteed to satisfy everyone's appetites. La Granja also serves up great deals on family size to go portions, complete with side dishes and drinks.
Peruvian Food: La Granja's continuous growth is proof of how much Floridians enjoy authentic Peruvian food!
Claudia Bartra, General Manager at La Granja Restaurants, knows how much Floridians love La Granja's Peruvian specialties, having seen crowds of loyal patrons who gather outside up to an hour before La Granja opens for business on grand opening days. Bartra has been honored at the Taste of Peru, and was named "Peruvian Entrepreneur of the Year". The annual Taste of Peru event celebrates Peruvian food, Peruvian culture, and recognizes those who work hard to make a difference in the Peruvian community.
 
Always looking for ways to connect with the community, part of La Granja's recipe for success has been its focus on providing families with fresh and delicious Peruvian cuisine at affordable prices. La Granja stays true to Peruvian tradition by providing a warm, welcoming environment where families can visit and share delicious meals together.
La Granja is fresh food, not fast food. Their extensive menu offers lunch specials that start at under $5.00 for a generous portion of rice, beans, and Pollo a la Brasa. Visit La Granja Apopka and try an authentic Peruvian food specialty at: 3352 East Semoran Blvd., Apopka Florida, 32703, or visit: http://lagranjarestaurants.com/en/locations/ for a location nearest you.