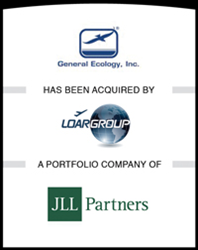 Charlotte, NC (PRWEB) January 27, 2016
BlackArch Partners ("BlackArch") is pleased to announce the sale of General Ecology, Inc. ("General Ecology" or the "Company") to Loar Group, Inc. ("Loar"), a portfolio company of JLL Partners. General Ecology, headquartered in Exton, Pennsylvania, is a developer and producer of advanced, point-of-use water purification and micro-filtration systems for commercial and business aircraft under the Versa-Pure® brand as well as the worldwide residential, restaurant, portable, marine and recreational vehicle markets under the Seagull® and First Need® brands. Approximately two-thirds of the Company's revenues are derived from the aerospace market. Founded in 1973 by the Williams family, General Ecology has grown to be the most prominent provider of specialty water purification solutions to the commercial and business aerospace industry and the creator of unparalleled purification and micro-filtration technologies. Together with Loar's significant position in the global aerospace market, the combined entity is poised to deliver a differentiated suite of components and products to its global customer base. The Company will continue to operate under its current brand as General Ecology.
BlackArch was retained by General Ecology to serve as the Company's exclusive financial advisor. The transaction continues BlackArch's strong momentum in the aerospace, defense & government services ("ADGS") and industrial growth and diversified manufacturing sectors and is representative of the firm's focus on providing unique M&A advisory services to founder-owned businesses.
Richard Williams, founder and President of General Ecology, stated "I was exceptionally pleased with the guidance and support we received from the BlackArch team throughout the process. They provided sound advice and labored tirelessly to ensure the completion of a successful transaction for General Ecology, its shareholders and its employees."
About General Ecology
General Ecology is an Exton, Pennsylvania-based developer and manufacturer of highly engineered water purification and micro-filtration systems as well as replacement cartridges, parts and supplies for the commercial and business aerospace markets, residential, restaurant and portable markets.
About Loar Group
The Loar Group is an acquisition platform in the aerospace and defense market, whose businesses specialize in the design and manufacture of niche aerospace components. It is mandated to create a strategic global alliance of aerospace and defense manufacturers. The firm is led by former executives of McKechnie Aerospace, a global manufacturer of aerospace components, assemblies and subsystems and for the commercial, private and military aviation markets, now owned by The TransDigm Group. The Loar Group is an affiliate of JLL Partners. For more information regarding Loar Group and General Ecology please contact Mr. Dirkson Charles at dirksoncharles(at)loargroup.com or visit the company websites: http://www.loargroup.com and http://www.generalecology.com.
About JLL Partners
JLL Partners is a middle-market private equity firm with a 27-year track-record of adding value to complex investments through financial and operational expertise. Since its founding in 1988, JLL Partners has committed approximately $4.8 billion across seven funds. The firm has developed significant expertise in sectors, including aerospace, healthcare, building products, financial services and business services. For more information regarding JLL Partners, please visit http://www.jllpartners.com.
About BlackArch Partners
BlackArch Partners is a leading middle-market investment bank offering a full spectrum of advisory services to financial sponsors, private companies and diversified corporations. BlackArch addresses the needs of owner-operators, founders and shareholders of private companies with specialized services that include M&A advisory, strategic advisory and private capital solutions. Headquartered in Charlotte, NC, with offices in Houston, TX, BlackArch features a total of 12 industry-focused practices that cover all sectors of interest to middle-market investors; BlackArch professionals have closed more than 300 transactions in 16 countries on four continents. Please visit our website, blackarchpartners.com, for more details.
Securities offered through BlackArch Securities LLC. Member FINRA and SIPC. Testimonials may not be representative of the experience of all clients. Testimonials are not a guarantee of future performance or success.