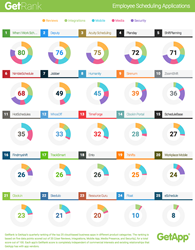 20 of the top 25 apps in the category have at least one native mobile app for either iOS or Android.
(PRWEB) January 28, 2016
Updating its ever-expanding list of rankings aimed at small and medium-sized businesses looking for the best cloud-based solutions for their company, GetApp has released its updated Q1 2016 ranking of the top employee scheduling solutions: When I Work Scheduling, Deputy, Acuity Scheduling, Planday, and ShiftPlanning took the top spots, respectively.
As with all the rankings, the employee scheduling ranking is calculated using five distinct data points. The data points include media presence, integrations, user reviews, security, and mobile app compatibility. Each individual data point is worth a maximum of 20 points for a potential combined score of 100.
When I Work Scheduling was at the top of the list with a score of 80, scoring a perfect 20 in both media presence and mobile app availability. Deputy and Acuity Scheduling followed up in second and third, both with high scores for integrations and security, while Planday and ShiftPlanning, rounding out the top five, scored highly for integrations and reviews, respectively.
The reviews data point is calculated based on the number of reviews on GetApp, as well as the app's average rating. The security score is calculated from a security survey– completed by vendors– based on the Cloud Security Alliance's Self-Assessment Form. Mobile compatibility calculations are completed using data pulled from the App Store and Google Play. Media presence is calculated using the number of followers and fans on Twitter and Facebook, respectively, while integrations are calculated by tallying the total number of app integrations listed on GetApp.
"A common theme among employee scheduling software is the necessity of a mobile companion app to accompany its solution – in fact, 20 of the top 25 apps in the category have at least one native mobile app for either iOS or Android. The ability for employees and managers to access schedules, swap shifts, and get notifications of changes, all from their mobile devices, tackles some of the more painstaking challenges associated with archaic paper-based scheduling methods," said Suzie Blaszkiewicz, project manager for GetRank.
Click through to see the entire Q1 2016 ranking of top employee scheduling solutions. You can also check out a free copy of our report, Operations in the Cloud, for key trends and insights into the workforce management space, with industry insights and expert commentary.
More about GetApp: GetApp, a Gartner company, is the leading premium business app discovery platform on the web. Headquartered in Barcelona (Spain), GetApp serves as a platform for user-generated and editorial reviews of software and apps for businesses.