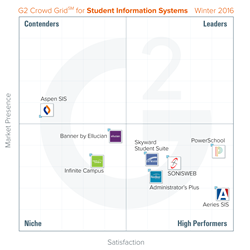 Chicago (PRWEB) January 27, 2016
G2 Crowd, the world's leading business software review platform, today released the Winter 2016 Student Information Systems (SIS) Software Grid report to help businesses make the best technology decision. PowerSchool, Aeries SIS, SONISWEB, Skyward Student Suite, and Administrator's Plus were named High Performers in the report, earning strong customer satisfaction marks with smaller market presence scores. Aeries SIS earned the highest overall Satisfaction score while PowerSchool earned the highest overall Market Presence score.
The Grid leverages customer satisfaction data reported by authenticated users along with vendor market presence determined from social and public data. Based on a combination of these scores, each software solution is categorized as a Leader, High Performer, Contender, or Niche.
Key Findings:

K-12 Solutions Prominent - Only 2 of the 8 products on the Grid℠ are designed for use by higher education institutions, compared to 6 products for primary and secondary education use.
Mobile Friendly - Mobile applications are a key part of the user experience for many SIS products. Most products on the Grid have mobile applications (7 have iOS mobile applications and 6 have Android OS applications).
About the Student Information Systems Grid report:

The report is based on more than 100 reviews written by business professionals.
Of the roughly ten products listed in G2 Crowd's Student Information Systems software category, the ranked products each received ten or more reviews to qualify for inclusion on the Grid.
About G2 Crowd, Inc.
G2 Crowd, the world's leading business software review platform, leverages its 44,000-plus user reviews to drive better purchasing decisions. Technology buyers, investors, and analysts use the site to compare and select the best software based on peer reviews and synthesized social data. Co-founded by the founder and former executives from SaaS leader BigMachines and backed by roughly $12 million in capital, G2 Crowd aims to bring authenticity and transparency to business technology research. For more information, go to G2Crowd.com.
Follow us on Twitter or connect with us on Facebook or LinkedIn.
For more information, please contact:
Adam Beeson
Communications Director for G2 Crowd
847-867-0048
abeeson(at)g2crowd.com