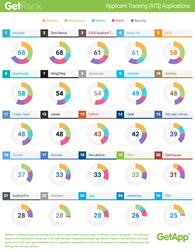 The GetRank rankings aim is to give small businesses a balanced overview of the top applicant tracking system on the market
(PRWEB) January 28, 2016
GetApp's Q1 ranking of applicant tracking apps has been revealed, with Workable and Zoho Recruit tying for the top spot. iCIMS Applicant Tracking and Breezy HR also scored highly in the GetRank list of the top 25 cloud apps for applicant tracking.
GetApp's list is an independent ranking of the top cloud applications for small businesses. The ranking is based on software vendor data collected in five key areas: user reviews, integrations with other software, mobile apps, social media presence, and security. The aim of GetRank is to give small businesses a balanced overview of the top applicant tracking system on the market. Software is scored out of 100, based on a maximum score of 20 points for each of the five data points.
Workable and Zoho Recruit both achieved a score of 68, though each excelled for different reasons. Workable earned a maximum 20 out of 20 points for user reviews, while Zoho earned top marks for social media presence. Both software solutions scored highly for integrations, although the top apps for integrations overall were Greenhouse and Jobvite, which both scored 20 out of 20.
"Applicant tracking often forms part of larger HR software suites, and powerhouses such as Workable and Zoho Recruit are clearly dominant in the category. However, the ranking for applicant tracking also includes some highly-placed standalone solutions, which have earned their place in the ranking thanks largely to the scope of their integrations, mobile support, and positive user feedback," says Christophe Primault, co-founder of GetApp.
User review scores in GetRank are calculated based on the number of reviews on GetApp and their user ratings. The score system for mobile support is derived from data collected from the Apple App Store and Google Play. It takes into consideration both the availability of an app and its user ratings on the app store. Integration scores are based on the number of applications listed as integrations on GetApp, while media presence is worked out from the size of a vendor's Facebook and Twitter following. The security score in GetRank is calculated using data collected from vendor-completed surveys, modelled on the Cloud Security Alliance's Self-Assessment form.
The Q1 GetRank for applicant tracking systems is available online now, and includes an accompanying industry trends report, HR in the Cloud. The analysis uncovers key trends in the HR software space and includes contributions from leading HR and cloud software professionals.
More about GetApp: GetApp, a Gartner company, is the leading premium business app discovery platform on the web. Headquartered in Barcelona (Spain), GetApp serves as a platform for user-generated and editorial reviews of software and apps for businesses.