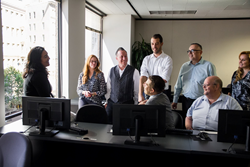 San Francisco, CA (PRWEB) January 29, 2016
Join Learning and Development Professionals from the Bay Area's most successful companies for our annual Professional Development Roundtable at the Learn iT! headquarters in San Francisco. Participate in a complimentary mini-session on Executive Presence, preview our new courses for 2016, network with peers and discuss trends in the industry.
This free round table will be led by Jennifer Albrecht, M.A. who is an educator, coach, instructional designer, leadership development expert and speaker with over ten years of experience in curriculum development, facilitation and management. To learn more about this event and register, go to http://www.learnit.com/learning-options/events-and-webinars
Benefits of Professional Development Training
A 2014 study conducted by the UNC Kenan-Flagler Business School and the Human Capital Institute (HCI) and found that: The vast majority (85 percent) of survey respondents said there was an urgent need to step up leadership development; Only 21 percent of senior leaders were satisfied with their organization's bench strength; Only 25 percent of senior leaders thought their high-potential employees currently were ready to meet their future business needs, and; Less than one-third (30 percent) of senior leaders believed their organization had a strong leadership pipeline (Filipkowski, 2014).
About Learn iT!
Headquartered in downtown San Francisco, Learn iT! has served the training needs of businesses, government agencies, and individuals since 1995. CEO Damon Lembi drives a team of 50+ employees dedicated to making learning efficient, valuable, and fun. Learn iT! also manages a carefully selected network of nationwide instructors, allowing us to train on an international scale.
What We Do
We cover 3 major learning areas, allowing clients to use Learn iT as a one-stop-global training provider. Our areas of expertise include:

Desktop Training, Information Technology Training, Professional Development (Business & Leadership Training)
Real World Experience
Our instructors qualified adult learning specialists with professional backgrounds in design, IT management, leadership and project management.
Dedicated Account Management
We are interested in learning about your business, partnering for your long term success, and customizing our offerings to your business needs.
Flexible Class Durations
We understand that it's difficult to leave your office or your work for a full day of training. Our classes are broken into short "modules" allowing you to learn just what you want.
To learn more, visit http://www.learnit.com, or call us at 415.215.5191