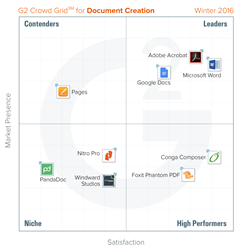 Chicago (PRWEB) January 28, 2016
G2 Crowd, the world's leading business software review platform, today released the Winter 2016 Document Creation Software Grid report to help businesses make the best document creation technology decision. Microsoft Word, Adobe Acrobat, and Google Docs were named Leaders in the report, receiving strong customer satisfaction scores with a large market presence. Additionally, Conga Composer and Foxit PhantomPDF were named High Performers, earning strong customer satisfaction marks with smaller market presence scores. Conga Composer earned the highest overall Satisfaction score while Adobe Acrobat earned the highest overall Market Presence score.
The Grid leverages customer satisfaction data reported by authenticated users along with vendor market presence determined from social and public data. Based on a combination of these scores, each software solution is categorized as a Leader, High Performer, Contender, or Niche.
Key Findings:

Overall satisfaction — Document creation users were generally satisfied regardless of which product they use. This is reflected in the relatively high satisfaction scores across the board and many reviewers finding it difficult to highlight dislikes.
Formatting disparities cause frustration — Several reviewers commented on inconsistencies in formatting when transferring documents between file types, with no one product consistently offering well-formatted documents across the board.
Range of uses— Document creation products are used for a wide-range of purposes such as report generation, drafting proposals, writing letters or research papers, or simply taking notes.
About G2 Crowd, Inc.
G2 Crowd, the world's leading business software review platform, leverages its more than 50,000 user reviews to drive better purchasing decisions. Technology buyers, investors, and analysts use the site to compare and select the best software based on peer reviews and synthesized social data. Co-founded by the founder and former executives from SaaS leader BigMachines and backed by roughly $12 million in capital, G2 Crowd aims to bring authenticity and transparency to business technology research. For more information, go to G2Crowd.com.
Follow us on Twitter or connect with us on Facebook or LinkedIn.
For more information, please contact:
Adam Beeson
Communications Director for G2 Crowd
847-867-0048
abeeson(at)g2crowd.com