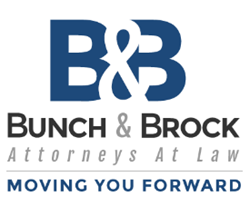 We thought it was essential to give people who are struggling with debt the opportunity to inform themselves about how a Chapter 7 bankruptcy differs from a Chapter 13 bankruptcy
Lexington, KY (PRWEB) January 30, 2016
Bunch and Brock, PSC, a well-known Central Kentucky bankruptcy law practice, has published a new infographic to help educate consumers from across the state about the differences between Chapter 7 bankruptcy and Chapter 13 bankruptcy. Conveying important information in a highly accessible, easy-to-share format, the infographic is a great place to start for those individuals who have questions about personal bankruptcy basics.
"Consumers are bombarded these days with radio, television, online and print ads offering quick fixes for debt relief. We thought it was essential to give people who are struggling with debt the opportunity to inform themselves about how a Chapter 7 bankruptcy differs from a Chapter 13 bankruptcy – and how they each affect property, taxes, student loans, child support and maintenance," said Bunch & Brock, PSC, original founder W. Thomas Bunch, Sr. He added, "We value our community connections, and embrace using this unique way to get useful information out to those who may be overwhelmed and unsure where to turn."
Accompanied by engaging imagery, the infographic shares facts about common personal bankruptcy causes and the number of consumer bankruptcies filed in 2013. Its primary focus is on explaining how the two main bankruptcy chapters differ from one another. Visually broken down into a user-friendly list, comparisons are made as to the circumstances under which each chapter becomes the preferable option, how long a filing under each chapter stays on a credit report, how often each chapter can be used to invoke protection, and how the debtor's income is used after filing. Sections are devoted to how each of the two chapters affects exempt property versus non-exempt property as well as the ability to discharge tax debt, student loan debt, maintenance debt and child support debt.
The firm's new infographic covering consumer bankruptcy is now live at its website, and those interested may also read about Bunch & Brock's highly personal and dedicated approach to bankruptcy matters.
About Bunch & Brock, PSC, Attorneys at Law
For almost four decades, Bunch & Brock, PSC, has been one of the Lexington area's most prominent and successful bankruptcy law firms. Long committed to serving the community and recognized with many professional awards, Bunch & Brock, PSC, also represent those who need help with legal business matters, estate planning, and trusts. As of January 1, 2016, Bunch & Brock, PSC, has incorporated with its family members.