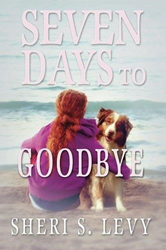 "The author's ability to create characters that her readers will connect with, relate to, and truly care about is exemplary, and certainly a hallmark of a very skilled author." – Reviewed by Chris Fischer for Readers' Favorite
(PRWEB) February 05, 2016
"Seven Days to Goodbye" is all about loving a special service dog and knowing one day you must part.
After Trina's beloved dog dies, she swears that she'll never get another. Then she hears about service dogs, and learns that if she becomes a puppy raiser, she could train puppy after puppy and never worry about them dying.
But there is one catch: Eventually you do have to say goodbye. Her first service puppy, Sydney, must be returned to his kennel at the end of their week-long summer vacation. Saying goodbye to this special puppy is much tougher than she ever imagined.
Trina's last week with Sydney is made even harder because of her newly strained relationship with her best friend, Sarah. Her friend has become so over-the-top boy crazy that she seems like a stranger. Sarah is determined that she and Trina must hang out with every boy at the beach. When a boy named Chase takes an interest in Trina and Sydney instead of Sarah, it puts an even bigger strain on their friendship.
It's hard enough to deal with losing Sydney, but now Trina could also lose her best friend.
Watch the video at: https://www.youtube.com/watch?v=FiPaEO5QNWM&feature=youtu.be
"Author Sheri S. Levy has done a fantastic job in writing a book with a great deal of appeal, especially for a person who loves dogs and has had a profound relationship with an animal. The author's ability to create characters that her readers will connect with, relate to, and truly care about is exemplary, and certainly a hallmark of a very skilled author." – Reviewed by Chris Fischer for Readers' Favorite
About the Author: After 25 years of teaching special education and training her own dogs in obedience and agility, Sheri S. Levy finds the subject of dogs and special needs children close to her heart. Her magazine article about a diabetic alert dog, "Scent with Love," was published in Clubhouse Magazine in July 2010. This story was nominated for a Maxwell Medallion Award with the Dog Writers Association of America's (DWAA) competition and received the Special Interest Award at its February 2011 awards banquet in New York. In 2015, her debut novel, "Seven Days to Goodbye," won another Special Interest Award with DWAA. She is a member of the Society of Children's Book Writers and Illustrators (SCBWI) Carolinas, teaches writing workshops, tutors teens in reading and writing, and volunteers with an accredited, nonprofit service dog kennel, Palmetto Animal Assisted Life Services (PAALS). She and her husband have enjoyed many years of married life, have two remarkable adult children and two grandchildren. The author has loved five past dogs and now owns two Australian Shepherds.
Author's website: http://www.SheriSLevy.com or see http://www.fiction-addiction.com
The compelling new book SEVEN DAYS TO GOODBYE: BOOK 1 – TRINA RYAN'S DOGS IN TRAINING SERIES (ISBN: 978-1-93546-074-9) is now available for $13.95 (Kindle ISBN: 978-1-93546-075-6, $3.99) and can be ordered through the publisher Barking Rain Press website:
http://barkingrainpress.org/seven-days-to-goodbye or at Amazon.com or Barnesandnoble.com.