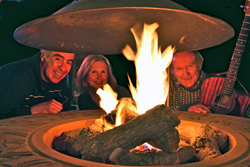 Perfect music for your special Valentine!
Evergreen, Colorado (PRWEB) January 31, 2016
Brook Forest Voices is proud to present the veteran eclectic rock group "Prime Fusion" at Race Car Jim's Saloon in the Historic Brook Forest Inn from 6:30 to 9:30 on Friday, Feb. 12. Come and enjoy, without a cover charge, the perfect music for your special Valentine.
Prime Fusion consists of the award winning lead vocalist, Jaime Andrade, vocalist and keyboardist, Diana Andrade, guitarist Ted Ciszek and new drummer, Rick Venditti. Their music genres consists of original music, as well as classic rock, ballads, folk tunes, country and the golden romantic oldies of yesteryear.
Race Car Jim's Saloon is offering a mouth watering holiday menu for Valentine's Day Weekend. Please call the Brook Forest Inn at 303-679-1521 for details and reservations.
About Brook Forest Voices: a complete audio production studio located just west of Denver in Evergreen, CO, specializing in audio services for business and audiobook production, publishing and distribution. Visit http://www.brookforestvoices.com or contact the BFV Business Manager at 303-670-4145.