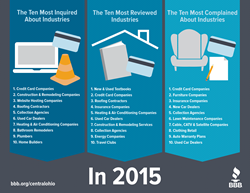 Columbus, OH (PRWEB) February 03, 2016
Consumers continued to trust and use the various resources offered by Better Business Bureau® serving Central Ohio (BBB) with more than 1.9 million requests for business reports on Central Ohio companies in 2015. BBB also processed more than 8,000 complaints locally and received over 3,000 customer reviews.
"BBB provides a few opportunities for consumers to report their experience to BBB," said Kip Morse, President and CEO of BBB serving Central Ohio. "In addition to filing a complaint, consumers can submit a customer review, both options opening up dialog between business and consumer."
BBB began publishing customer reviews in 2013 and to date consumers have submitted over 8,500 customer reviews impacting BBBs overall service to the community.
"In the past, a large number of consumers turned to BBB with only complaints," said Morse." "Now consumers are using BBB to not only research companies before making a purchase, but also to leave feedback about their experience."
At year-end over 5,300 Accredited Businesses were committed to BBB's high standards of trust and the resolution of marketplace disputes through conciliation, including arbitration, if needed. This represents a very positive commitment by BBB Accredited firms to stand behind their products and services, and to ensure proper resolution of any disputes that may arise.
To help consumers make savvy marketplace decisions, BBB names the top ten most complained, inquired and reviewed industries of 2015.
The Ten Most Inquired about Industries of 2015:
1. Credit Card Companies
2. Construction & Remodeling Companies
3. Website Hosting Companies
4. Roofing Contractors
5. Collection Agencies
6. Used Car Dealers
7. Heating & Air Conditioning Companies
8. Bathroom Remodelers
9. Plumbers
10. Home Builders
The Ten Most Complained about Industries of 2015:
1. Credit Card Companies
2. Furniture Companies
3. Insurance Companies
4. New Car Dealers
5. Collection Agencies
6. Lawn Maintenance Companies
7. Cable, CATV & Satellite Companies
8. Clothing Retail
9. Auto Warranty Plans
10. Used Car Dealers
The Ten Top Most Reviewed Industries of 2015:
1. New & Used Textbooks
2. Credit Card Companies
3. Roofing Contractors
4. Insurance Companies
5. Heating & Air Conditioning Companies
6. Used Car Dealers
7. Construction & Remodeling Services
8. Collection Agencies
9. Energy Companies
10. Travel Clubs
For more information on finding businesses you can trust, check us out on Facebook and Twitter.
About BBB
For more than 100 years, Better Business Bureau has been helping people find businesses, brands and charities they can trust. People turned to BBB more than 165 million times for BBB Business Reviews on more than 4.7 million businesses and Charity Reports on 11,000 charities, all available for free at bbb.org. BBB Serving Central Ohio was founded in 1921 and serving 21 counties in Ohio, is one of 113 local, independent BBBs in the United States, Canada and Mexico.