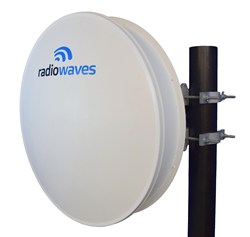 Billerica, MA (PRWEB) February 04, 2016
RadioWaves, a Smiths Microwave brand, announced today the launch of its new HP Pro Series Antenna Line further expanding its comprehensive portfolio of terrestrial microwave point-to-point antenna solutions addressing various backhaul applications.
The HP Pro Series antennas are available as single or dual polarized and support standard frequency bands from 5.9 to 26 GHz. A redesigned reflector and feed enables higher gain and narrower beamwidths. The improved performance provides customers with greater flexibility in architecting longer links with higher capacity while maintaining the same rugged design that RadioWaves is known for.
Key features include:

Fully Preassembled – Antennas are delivered to each site fully preassembled thus providing the "fastest time to the tower"
Mounting Flexibility – New lightweight design offers improved strength to weight, ensuring network providers have a comprehensive range of possible mounting configurations
Multiple Bands – Ten frequency bands offered from 5.9 to 26 GHz
Warranty – Industry leading 7-year warranty
"Point to point microwave antennas must reliably deliver excellent radio performance in all weather conditions. We are pleased to offer this newest addition to Radiowaves' product family," commented Navi Miglani, General Manager, RadioWaves. "The HP Pro Series is RadioWaves' parabolic antenna solution for superior performance that can be delivered fully pre-assembled directly to the tower. With both higher gain and an improved radiation pattern envelope, the HP Pro Series continues to deliver on the RadioWaves promise of rugged antennas that can be deployed in the most demanding environments."
For additional information or to request a quote on the HP Pro Series antenna line, please contact RadioWaves.
###
About RadioWaves
RadioWaves, a Smiths Microwave company, offers a diverse product range of high-quality microwave antennas from 1.3 GHz to 86 GHz for Point-to-Point and Point-to-Multipoint applications supporting all unlicensed and licensed band requirements. Applications include telecommunications backhaul, WiMAX broadband wireless bands, ISM, LMDS, broadcast, enterprise applications. RadioWaves is known globally for their high performance, reliable construction and design and flexible delivery capabilities.
About Smiths Microwave
Smiths Microwave is a leading provider of components, sub-assemblies, antennas and system solutions that test, filter, protect, and process high-frequency signals primarily for defense, aerospace, test and measurement, and wireless telecommunications applications.
As a family of brands, TECOM, TRAK, Millitech, EMC Technology, Florida RF Labs, LORCH, TRAK Limited, Kaelus, PolyPhaser, Transtector Systems, and RadioWaves provide exacting solutions for antenna systems for the military and commercial aerospace, transceivers, frequency sources, timing systems, component applications and a wide range of innovative RF, microwave and surge protection solutions for the wireless telecommunications sector.
Alongside Smiths Connectors and Smiths Power, Smiths Microwave is part of the Smiths Interconnect division of Smiths Group, http://www.smiths.com, a global leader in applying advanced technologies for markets in threat and contraband detection, energy, medical devices, communications, and engineered components. Smiths Group employs more than 23,000 people in over 50 countries.