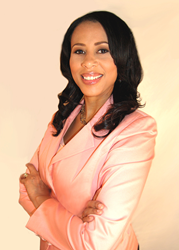 Suitland, Maryland (PRWEB) February 04, 2016
Michelle Singletary will present a complimentary financial seminar on site at Andrews Federal Credit Union's Headquarters location in Suitland, Maryland on Tuesday, February 23 at 3:00 PM
The seminar, entitled Michelle Talks Personal Finance, will explain personal finance principles such as budgeting basics, conquering debt, basic investing, saving for the future and stewardship. Persons interested in attending may register on the Credit Union's website at andrewsfcu.org/seminars.
"We are excited to be able to provide our members this free seminar by one of the best in the field'" said Jim Hayes, President & CEO, Andrews Federal. "We are committed to helping all of our members live their dreams here at Andrews Federal, and financial education is an important part of making that possible."
Michelle Singletary is a nationally syndicated columnist for The Washington Post, where she writes the award-winning column, "The Color of Money." In her spare time, Singletary is the director of "Prosperity Partners Ministry," a program she founded at her church in which women and men, who handle their money well, volunteer to mentor others who are having financial challenges.
About Andrews Federal Credit Union
Andrews Federal Credit Union was founded in 1948 to serve the needs of military and civilian personnel by providing a vast array of financial products and services. With over $1 billion in assets, Andrews Federal has grown to serve more than 113,000 members in the District of Columbia, Joint Base Andrews (MD), Springfield, Virginia (VA), Joint Base McGuire-Dix-Lakehurst (NJ), and military installations in central Germany, Belgium, and the Netherlands. In addition, the Credit Union serves as a financial partner with many select employee groups in Maryland, the District of Columbia, Virginia and New Jersey.
To learn more about Andrews Federal Credit Union and its community involvement, or to become a member, call 800.487.5500 or visit http://www.andrewsfcu.org.