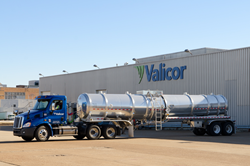 Middletown, Ohio (PRWEB) February 06, 2016
Valicor, Inc., announced today the opening of a new 83,000 square foot facility in Monroe, Ohio. This location will specialize in consumer packaged goods and container management. By moving into this building, Valicor continues to expand its capabilities throughout the Midwest and South.
The new Valicor facility will allow for major enhancements in the product destruction and container management division. These enhancements include, a second product destruction line for liquid products and the addition of a high-capacity shredder for solid materials. The facility offers a 70% increase in floor space and a 200% increase in loading docks, which will allow Valicor to offer the highest level of service to our customers who experience large campaigns of waste containers or expired materials.
Scott Farmer, General Manager, stated "This facility is a major step-up for our organization. By expanding into this new building, Valicor has positioned itself to be the leader in secure consumer product destruction and non-hazardous waste container management. This will give the customer the best experience possible."
"This location offers a major competitive advantage in the container management and product destruction industries." Farmer went on to say "for that customer who has 1 or 100+ truckloads of branded material needing to be destroyed, Valicor can now transport, process and 100% recycle all materials faster than anyone in the industry This is truly exciting."
Valicor has come a long way since its inception as a centralized waste treatment facility. In 1996, Valicor was the first company in the industry to receive the distinction of ISO 14001 certified. Since then, Valicor has expanded this certification to 3 additional Ohio facilities, along with facilities located in Huntington, WV, Huntsville, AL and St. Louis, MO. Valicor will also certify its Kansas City, MO and new Monroe, OH facilities, in early 2016.
Valicor has received several distinctions throughout the Greater Cincinnati area, including being named one of the top workplaces in Cincinnati 5 years in a row, by the Cincinnati Enquirer. Valicor also received a nomination from the Cincinnati Business Courier for the Green Business Award in 2014. This nomination was for quality and ethical services, with a focus on environmentally friendly practices.