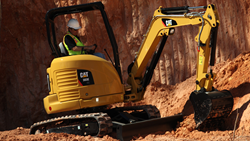 "Making the right choice will affect your business for years to come, and Hawthorne Cat will help you find the right equipment solutions for your business." - Ross Farmer, Hawthorne Cat Sales Manager
San Diego, CA (PRWEB) March 08, 2016
Hawthorne Cat, the exclusive Cat® equipment dealer in San Diego, the Hawaiian Islands and the Pacific Region, has extended their Accelerated Equity Program. Now through December 31, 2016, San Diego and Hawaii customers can keep their cash and gain instant equity with the purchase of a new Cat machine. Choose a machine, select upgrade options, and Hawthorne Cat will make the down payment when you finance through Cat Financial.
According to Ross Farmer, Hawthorne Cat Sales Manager, "Purchasing a new piece of equipment is a big decision." Farmer continues, "Making the right choice will affect your business for years to come, and Hawthorne Cat will help you find the right equipment solutions for your business."
Greg Vena, Pacific Region Sales Manager, adds, "Our team is here to assist you. Whether you're in the Hawaiian Islands, the Pacific Region, or San Diego, Hawthorne Cat is the best choice for your equipment needs."
Visit http://www.hawthornecat.com to learn more. Contact a Hawthorne Cat sales representative for complete offer details or call 800.437.4228.
About Hawthorne Cat
Hawthorne Cat is the authorized dealer for Cat construction and power equipment in San Diego, Hawaii, Guam, Saipan and American Samoa. Hawthorne sells, rents, provides parts and service, training and emission solutions to various industries including general building construction, landscaping, marine, paving and power generation. For more on Hawthorne Cat, visit http://www.hawthornecat.com.