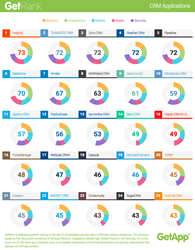 Having native mobile app access is essential for the salesperson on the go, and it's unlikely that we'll see the mobile trend do anything but ramp up
(PRWEB) February 08, 2016
Updating its ranking for Q1 2016, cloud-based business apps marketplace GetApp has released its ranking of the the top CRM solutions, with Insightly narrowly taking first place. A close race put Teamgate, Zoho CRM, Pipeliner CRM, and Pipedrive all tied for second.
To calculate the GetRank score for CRM, GetApp uses five distinct data points. The five data points include mobile app availability, security, media presence, user reviews, and integrations. Each data point is worth up to 20 points and, when combined, can total up to a maximum score of 100.
The close race saw Insightly nudging into first place with a score 73. Teamgate, Zoho CRM, Pipeliner CRM, and Pipedrive all followed closely behind and tied with a score of 72 points, distinguishing themselves from 2nd to 5th place only by their security scores, with Teamgate hitting the high of 16. Notably, all top 5 contenders have an app for both iOS and Android.
"The top five CRMs all have mobile apps, which demonstrates the importance of being able to access and integrate CRM software when away from the office," says Suzie Blaszkiewcz, researcher and project manager for GetRank. "With continuously less desk-bound office environments, having native mobile app access is essential for the salesperson on the go, and it's unlikely that we'll see the mobile trend do anything but ramp up."
The media presence data point is based on the number of Facebook fans and Twitter followers that an app has. The reviews data point is calculated by tallying the number of reviews an app has on GetApp, as well as its average rating. The mobile score is calculated using data pulled from the Apple App Store and Google Play, while integrations is calculated using the number of integrations available with other apps listed on GetApp. Finally, the security data point is calculated by using data from a vendor-completed security survey based on the Cloud Security Alliance's Self-Assessment Form.
Click through to see the entire Q1 2016 ranking of top CRM solutions, and take a look at our free report, Customer Success in the Cloud, for key trends and insights into the CRM space, with expert commentary and contributions.
More about GetApp: GetApp, a Gartner company, is the leading premium business app discovery platform on the web. Headquartered in Barcelona (Spain), GetApp serves as a platform for user-generated and editorial reviews of software and apps for businesses.