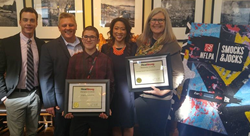 "Yevgeniy is an incredibly well-rounded, intelligent, and talented young man who is changing the way his classmates and those in his community view hearing loss and hearing technology..." --Ed Keller, founder and president of the HearStrong Foundation
San Francisco, CA (PRWEB) February 09, 2016
Before the main event in San Francisco on February 7, the HearStrong Foundation and the NFL Players Association's Professional Athletes Foundation (PAF), one of its main sponsors, joined forces for the fourth consecutive year to shine a spotlight on hearing loss by recognizing a local teen who is overcoming it to live his life on his terms.
On February 6, representatives from HearStrong and the PAF celebrated 14-year-old Yevgeniy Barkalov as a HearStrong Champion at the PAF's Smocks and Jocks event in the Fisherman's Wharf district of San Francisco, CA.
HearStrong Champions are men, women, and children shattering the stigmas of hearing loss and refusing to let hearing loss keep them from pursuing and accomplishing their goals.
Nominated by the Hearing and Speech Center of Northern California, Yevgeniy was diagnosed with hearing loss as an infant and fit with cochlear implants at the age of two. He quickly caught up to his hearing peers and was mainstreamed into public school as a kindergartner.
"With my implants, I have accomplished (many) things," said Yevgeniy. "I am at or above my grade level in my academic subjects. But, no matter where I may be, I don't stop aiming higher."
An aspiring software engineer, Yevgeniy spends his spare time taking martial arts classes, hip-hop dance classes, piano lessons, and attending events to help inspire kids and teens with hearing loss to excel.
"Yevgeniy is an incredibly well-rounded, intelligent, and talented young man who is changing the way his classmates and those in his community view hearing loss and hearing technology each and every day," said Ed Keller, founder and president of the HearStrong Foundation. "He has a very bright future ahead, and his passion for helping others, especially young people, accept and overcome hearing loss will allow him to impact others for years to come."
****
About the HearStrong Foundation:
The HearStrong Foundation is a 501(c)(3) not-for-profit organization that seeks to shatter the stereotypes surrounding hearing loss and its advanced solutions by honoring the accomplishments of those who have overcome hearing loss and inspire others to do the same. Supported by the dedication of EarQ providers, the foundation is a worldwide advocate for hearing loss awareness, education and support. For more information about the foundation, or to nominate a HearStrong Champion, please visit hearstrong.org or contact:
Like us on Facebook
Follow us on Twitter
About the NFL Players Association
The National Football League Players Association (NFLPA) is a non-profit, professional sports union that protects the best interests and welfare of all NFL players. It serves as the exclusive bargaining agent for all NFL players in collective bargaining. Established in 1956, the NFLPA has a long history of assuring proper recognition and representation of players' interests. The NFLPA is governed by a Board of Player Representatives, acting in accordance with the NFLPA Constitution and federal labor laws. The NFLPA's responsibilities include: Representing all players in matters concerning wages, hours and working conditions and protecting their rights as professional football players; ensuring that the terms of the Collective Bargaining Agreement are met; negotiating and monitoring retirement and insurance benefits; providing other member services and activities; providing assistance to charitable and community organizations; enhancing and defending the image of players and their profession, on and off the field.
For more information, visit http://www.nflpa.com.