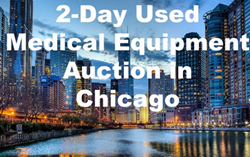 Chicago, Illinois (PRWEB) February 08, 2016
Date: Tuesday, February 9 & Wednesday, February 10, 2016
Location: 1400 North 25th Avenue Melrose Park, IL 60160
Auction Highlights:
Hospital Beds
(3) KCI Baricare Bariatric Beds
(20+) Hill-Rom Total Care
Stretchers
(20+) Stryker Big Wheel Stretchers
(5) Steris Pediatric Stretchers
Exam
Ritter 223 Power Exam Table
Ritter 75L Power Exam Table
(2) Ritter 75E Power Exam Table
Infusion
(3) Bard INFUS OR
Respiratory
(66) Nellcor 840 Ventilators
(4) Drager Babylog 8000 Ventilators
Maquet Servo I Ventilator
(8) Drager Evita 4 Ventilators with NEOFLOW
(12) Drager Evita XL Ventilators
(3) Drager Evita 2 Ventilators
(2) Viasys LTV 1200
Lab
(7) Abbott Cell-Dyn Emeralds
Sakura Tissue Tek X120 Tissue Processor
(2) Beckman LH 780
(2) Beckman Slide Stainers
Dialysis
Fresenius 2008K2 
Anesthesia 
Drager TIRO Anesthesia Machines
Drager Fabius GS Anesthesia Machines
(5)  GE DATEX-OHMEDA Aestiva Machines with 4.8 PSV Pro
 
Surgery
OSI JACKSON 5856 Table 
Alcon Infinii Phaco System with Ozil
(30+) OR TABLES Including (Skytron 6500HD (8), Berchtold Operon, (4) CMAX, Steris 3080, 2080)
(5) Valley Lab Force FX ESU
(7) Valley Lab Force 2 ESU
(100+) Sets of Surgical Instrumentation from closed hospital
Zeiss OPMI Vario Surgical Microscope
Zeiss OPMI CS Surgical Microscope 
Endoscopy
Olympus Evis 180 Full System
Olympus Q180 Gastroscope (4)
Stryker 1288 Full HD Towers 
Stryker 1188 Full HD Towers (4)
(30) KARL STORZ Full Instrumentation Sets 
(30+) Lots of Rigidscopes
Cardiology
(2) Lifepak 15
(800+) Defibrillator's (E-Series, M-Series,  LP12, LP20, Heartstart MRX, Heartstart XL)
Central Sterile
(2) Sterrad NX
(2) Midmark M11
3M 5XL ETO
(20+)Steris Sterilizers including (G-116, V160-H, 3033,V-148H, 3053 and Much more)
(20+) Steris Washers  
Radiology
GE-OEC 6600 Mini C-Arm   
GE Logic 9 Ultrasound
FOR REGISTRATION AND MORE INFORMATION ON THIS AUCTION PLEASE CLICK HERE!
Who is Centurion Service Group?
Centurion Service Group is the innovative company behind the world's largest used medical equipment auction house. They empower buyers to purchase from the largest inventory, with no minimum or maximum restrictions, and a fast and easy auction process. Selling more than 100,000 pieces of medical equipment every year, they have rated the largest medical equipment auction house in the world. Centurion Service Group partners with trusted healthcare systems to bring you over 6000 medical devices each month from three convenient locations in Chicago, Las Vegas, and South Florida.
To purchase through our Live and Timed Auctions please visit our Buyer Resources Guide to learn more!
For more information on upcoming auctions, please visit http://www.centurionservice.com or contact us at info(at)centurionservice(dot)com.
Centurion Service Group
MORE EQUIPMENT. LESS WORK.