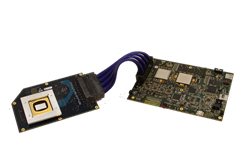 The LC9000X offers the latest in advanced light control solutions that includes everything needed to control and manage large data files
Allen, Texas (PRWEB) February 16, 2016
Keynote Photonics today announced the availability of the FlexLight LC9000X, its highest speed and resolution controller for 3D printing and digital exposure applications. The controller, consisting of the DLP9000X digital micromirror device (DMD) and the recently available DLPC910 controller, offers developers more than five times the speed at continuous streaming compared to the similar resolution chipsets.(1)
Example application areas for the DLP9000X include 3D printing, lithography, laser marking, optical correlators, computer-to-plate UV printers, as well as 3D machine vision and hyperspectral imaging.
"The LC9000X offers the latest in advanced light control solutions that includes everything needed to control and manage large data files," said Adam Kunzman, Keynote President and CEO. "Our flexible architecture can be customized for the particular requirements of new product designs and emerging applications."
Key features and benefits of the LC9000X controller

Delivers the highest DLP streaming pixel speed at over 60 gigabits per second (Gbps).
An integrated 1-GHz ARM controller running Linux supporting both USB and Ethernet connectivity options with 8 Gbit of data storage.
A built in embedded control application that works together with a host controller GUI to download data and control system operation.
A flexible interconnect to the DMD controller board, allowing for different opto-mechanical packaging options.
A Kintex-7 data formatting FPGA with 16 Gbit DDR3 supports customizable pixel loading options for real-time, continuous, high bit-depth patterns loaded from the ARM processor.
Support for external triggering and for light source synchronization including lasers, light-emitting diodes (LEDs) is available
Availability
The LC9000X is available for pre-orders, with anticipated shipments starting in June.  To place an order and learn more about this module, please visit http://www.KeynotePhotonics.com/LC9000X. Additionally, you can experience the LC9000X in person at SPIE Photonics West, from February 16-18, 2016 in San Francisco, CA at the Texas Instruments DLP booth #823.  
About Keynote Photonics
Keynote Photonics is a developer of leading solutions, tools, and processors for photonics applications using MEMS technologies. Keynote is a privately held company.
Trademarks
FlexLight is a trademark of Keynote Photonics.
DLP is a registered trademark of Texas Instruments.
Kintex is a registered trademark of Xilinx.
All registered trademarks and other trademarks belong to their respective owners.
1 The (DLP9000X+DLPC910) chipset has >5x higher continuous streaming speed than the (DLP9000+DLPC900) chipset.