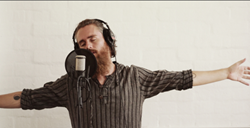 I'd love to prove to the world that an artist can 'make it big' with the help of their fans, and without selling their soul to greedy record companies, losing creative control of their music.
Byron Bay, NSW, Australia (PRWEB) February 09, 2016
Plaito, an Independent Musician from Australia is championing a movement on social media this week against the exploitation of artists by "greedy record labels".
The music video featuring Plaito performing his original song, "Finding My Heart" was posted on the solo artist's Facebook page on 2 February in an attempt to gain exposure and avoid the need to sign a publishing deal. Plaito was concerned that creative control of his music would be lost to financial interests.
The low-budget video has since been clocking up views and gaining momentum, as thousands of Facebook users show their support by liking and sharing it in an attempt to help the talented musician reach a larger audience and amass a fan base - without requiring the backing of a major record label.
In the online description of Plaito's new music video, the budding artist vents, "From what I've seen so far, all record labels seem to just want to own, control and profit from their artists. This is why Lady Gaga threatened to quit music. She felt shallow, controlled, lost her creative freedom and said she was just being used to make money. I wrote this song after giving up my mindless pursuit of riches and returning to my first love - music. Music is Freedom. I refuse to make people have to pay money to hear this song."
Plaito's unique stance against charging money for his music comes at a time when two of the world's top-selling artists - Taylor Swift and Adele, have been famously avoiding making their tracks available on most music streaming sites, a protest against decreased revenues from services like Spotify.
The aspiring Australian artist, yet to release his debut EP, is publicly forgoing all future music sales with the belief that his music will be "more freely shared across the planet". But without the usual funding of an established record label for promotional campaigns, Plaito has taken on the financial risk personally. Resorting to "Crowd Publishing" the innovative artist has asked his fans to help the movement by sharing his music video online, and is encouraging fellow musicians to cover or remix his song "Finding My Heart", and to post their own versions of the track on social media sites along with the hashtag #freethemusic.
"This beautiful music was given to me, so I give it to you in the spirit of Freedom at no cost. This song is open. This means that you don't need any permission from anybody at any time to copy, distribute, edit, remix or cover any of my songs. It's yours to use for whatever you want," writes Plaito on his Facebook Page, "I'd love to prove to the world that an artist can 'make it big' with the help of their fans, and without selling their soul to greedy record companies, losing creative control of their music."
No stranger to the business world, Heath Sanchez (Plaito) was a serial entrepreneur for over 12 years before embarking upon his recent music endeavours in late 2015. After achieving financial success that allowed him to travel through 23 countries over 7 years with his wife, Sanchez reached a career high when a company he'd built in 6 months was offered $11 million by a U.S. finance company in 2014. A deal he says that never went through.
"During a spiritual awakening deep in the Costa Rican jungle, I vowed to cease my frivolous pursuit of wealth and return to my first love - music. Drowning in debt and having just lost our 3-year old daughter to one of the rarest, most aggressive and most lethal forms of children's cancer - I decided that life was just too short to keep ignoring my real dream," Plaito explained passionately.
When asked how he plans to thrive as an artist without a revenue strategy, and with significant business debt looming, Plaito responded, "I really don't know, I'll figure that out later! Everything is changing so fast. I'll probably just end up making my revenue from my Live Shows, but I just hate the idea of making people pay money to enjoy my music on their devices. I want to make all my music free. Out with the old world, in with the new."
About Plaito
Plaitō is an Independent Electronic Artist from Byron Bay, NSW, Australia with a unique musical sound that combines conscious lyrics with pop sensibilities. For more information, visit http://www.facebook.com/plaitomusic or http://www.plaito.com.au