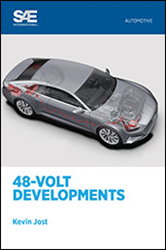 The displacement of high-wattage loads to more efficient 48 V networks is expected to be the next step in the development of a new generation of mild hybrid vehicles.
WARRENDALE, Pa. (PRWEB) February 09, 2016
SAE International announces its new book, 48-Volt Developments available now on the SAE International website.
Development of higher-voltage electrical systems in vehicles has been slowly progressing over the past few decades. However, tightening vehicle efficiency and emissions regulations and increasing demand for onboard electrical power means that higher voltages, in the form of supplemental 48 V subsystems, may soon be nearing production as the most cost-effective way to meet regulations. The displacement of high-wattage loads to more efficient 48 V networks is expected to be the next step in the development of a new generation of mild hybrid vehicles.
In addition to improved fuel economy and reduced emissions, 48 V systems could potentially save costs on new electrical features and help better address the emerging needs of future drivers. Challenges to 48 V system implementation remain, leading to discussions by experts from leading car makers and suppliers on the need for an international 48 V standard. Initial steps toward a proposed standard have already been taken. So the consensus of global forecasts suggests that 48 V mild hybrids will soon come to dominate the market. Compared with 200-600 V full hybrid and battery electric vehicles, the lower-voltage approach avoids the need for high-cost safety features and large battery packs.
48-Volt Developments inclu des eight technical papers edited by Kevin Jost. Mr. Jost is the Editorial Director for SAE International.
Chapters include:

Chapter 1: Fuel Consumption and Emissions Effects in Passenger Car Diesel Engines through the Use of a Belt Starter Generator
Chapter 2: Requirements and Protection within a 48V Automotive Wiring System
Chapter 3: Mixed Voltages and Aluminum Conductors: Assessing New Electrical Technologies
Chapter 4: Hybrid Cars Setting New Challenges for Optimized Power Semiconductors
Chapter 5: Specification and Design of a Switched Reluctance 48 V Belt Integrated Starter Generator (B-ISG) for Mild Hybrid Passenger Car Applications
Chapter 6: Optimizing Lithium-Ion Batteries – Tailoring Electrodes for Microhybrid Vehicle Applications
Chapter 7: Application of 48 Volt for Mild Hybrid Vehicles and High Power Loads
Chapter 8: Advantages of a 48 Volt Belt Starter Generator in an Ultra-Light Vehicle Powertrain
Book details:

Published By: SAE International
Binding: Softbound
Product Code: TU-002
ISBN: 978-0-7680-8192-3
Price: $99.99 - SAE International Members save up to 20% off list price.
For more information, including free front and back matter, or to order 48-Volt Developments, visit http://books.sae.org/tu-002/.
To request an electronic review copy of the book, email pr(at)sae(dot)org. Forward published reviews to Shawn Andreassi at pr(at)sae(dot)org or SAE International, 400 Commonwealth Dr., Warrendale PA, 15096-0001, or to receive a print copy of the book or another equivalent SAE International book.
SAE International is a global association committed to being the ultimate knowledge source for the engineering profession. By uniting over 137,000 engineers and technical experts, we drive knowledge and expertise across a broad spectrum of industries. We act on two priorities: encouraging a lifetime of learning for mobility engineering professionals and setting the standards for industry engineering. We strive for a better world through the work of our charitable arm, the SAE Foundation, which helps fund programs like A World in Motion® and the Collegiate Design Series™.