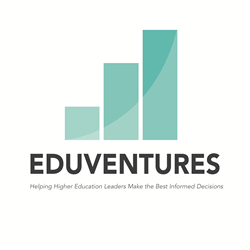 Richard Garrett, Chief Research Officer commented on the new hires, "I am delighted to welcome James, Howard, Amber and Noah to our research team. They bring significant expertise to our core research and advisory programs."
Boston, Massachusetts (PRWEB) February 10, 2016
Eduventures, Inc., the leading provider of data, research and advisory services for higher education leaders, today announced the appointment of four new research team members. They include James Wiley, Principal Analyst, Technology, Howard Lurie, Principal Analyst, Online and Continuing Education, Amber Laxton, Senior Analyst, Online and Continuing Education and Noah Lynn, Quantitative Research Analyst. These additions come as a result of the company's continued focus on helping support our clients goal of ensuring access and equity for students; improving efficiency and effectiveness of their operations; and raising the quality and relevance of the student experience.
Richard Garrett, Chief Research Officer at Eduventures commented on the new hires, "I am delighted to welcome James, Howard, Amber and Noah to our research team. They bring significant expertise to our core research and advisory programs and further enhance our ability to help clients make smart decisions."
New research team members include:
Howard Lurie – Principal Analyst, Online and Continuing Education
Howard joins Eduventures with more than 20 years of experience in developing and implementing online education technology solutions for the higher education, corporate and K-12 markets. As part of Consulting Services for Education (CS4Ed), Howard has worked with a variety of higher education and K-12 clients in online and continuing education. Howard also served as Managing Director for Academic Partnerships at Acrobatiq, where he led efforts to secure new partnerships and revenue from a range of higher education institutions, as well as a major grant from the Bill and Melinda Gates Foundation. Howard also served roles as a Vice President for External Affairs at edX, and was the Managing Director for PBS LearningMedia. Howard is a graduate of the University of Massachusetts at Amherst and Teachers' College, Columbia University.
James Wiley – Principal Analyst, Technology
James joins Eduventures with over 13 years of education technology experience. Prior to joining the research team, James was Executive Vice President of Enterprise Services at the Center for Educational Leadership and Technology (CELT). James lead efforts to develop a network infrastructure redesign project for a Texas school district rollout of instructional tablets and to develop a statewide information security management system for over 400 school districts for the Massachusetts Department of Education. Before CELT, James successfully designed and managed over 15 large-scale education technology engagements, including the New York State Education Portal, the Rhode Island Department of Education Statewide Longitudinal Data System, and the Hawaii Enterprise Application Integration Solution projects. James has a wealth of experience in education technology and helping all stakeholders understand the steps required to successfully implement and manage enterprise systems. He holds an MA and a BA in Classics from Cambridge University, a Certificat d'Enseignant in Sociology from L'Ecole des Hautes Etudes en Sciences Sociales in Paris, and a BA in Philosophy, Greek and Latin from Lehman College, The City University of New York.
Noah Lynn – Quantitative Research Analyst
Noah joins Eduventures with extensive work experience in education and technology. Prior to joining Eduventures, Noah was a lead researcher and developer of a Spanish language electronic health system for Medical Information Technology, Inc. Noah also worked as a K-12 educator in Quito, Ecuador, designed bilingual curricula, and helped the school earn International Baccalaureate World School status. Noah also keeps active with local non-profit organizations. Most recently he has served on the Board of Directors for the New England Translators Association, managing annual conferences and analytics. He holds an M.S. in Business Analytics from Bentley University and earned a B.A. in History and Spanish from the University of Vermont.
Amber Laxton – Senior Analyst, Online and Continuing Education
Amber joins Eduventures with eight years of experience in continuing and professional education. Prior to joining the research team, she was the Director of Academic Services at UCSC Silicon Valley Extension, overseeing the management of four academic programs areas. Before UCSC, Amber worked as the Enrollment Services Manager at DePaul University in Chicago, administering academic and student services for the department of Continuing and Professional Education. She has expertise in optimizing technology solutions in continuing education organizations to improve operational efficiency and student services. She holds a B.S. in Political Science and earned a M.S. in Public Service Management. She also completed doctoral coursework in Public Administration and earned a fellowship with the Information Technology and Innovation Foundation (ITIF), a leading technology think tank in Washington, D.C.
About Eduventures
Eduventures for Higher Education Leaders provides data, research and advice that support decision making through the entire student lifecycle. Higher education leaders engage with Eduventures to make the best informed decisions on setting strategy, ensuring the financial sustainability of their institution, boosting student success and selecting and implementing technology. Our recommendations and personalized support enable clients to understand the top traits of leaders in critical disciplines and to evaluate the opportunities presented by new technology solutions. For more information about Eduventure's research, practice areas and team, visit us at http://www.eduventures.com.