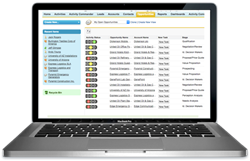 Activity Commander continues to get better with every release.
Winter Park, FL (PRWEB) February 15, 2016
Stony Point, Inc. announced today the release of Activity Commander Winter '16, version 1.22.0.
The new version of Activity Commander continues to allow customers to create custom, activity scoring systems and see visual indicators of the relationship health of their customers and prospects. In addition, Activity Commander Winter '16 includes several enhancements, including improved ability to configure the activity scoring system, the ability to add configurable list views to the Salesforce home page and fields to better support the new Salesforce Lightning Experience.
"Activity Commander continues to get better with every release," said Steve Wasula, President of Stony Point, Inc. "Our customers are asking for enhancements for both the front end and the back end and we've delivered them with Winter '16."
Activity Commander is an add-on application to Salesforce and is available for download on the Salesforce AppExchange (appexchange.salesforce.com).
Salesforce, AppExchange and others are among the trademarks of salesforce.com, inc.
About Salesforce AppExchange
Salesforce AppExchange is the world's leading enterprise apps marketplace that empowers companies to sell, service, market and engage in entirely new ways. With more than 2,800 partner apps and more than 3.5 million customer installs, it is the most comprehensive source of cloud, mobile, social, IoT and data science technologies for businesses.
About Stony Point
Founded in February 2011, Stony Point, a Salesforce consulting partner and Salesforce ISV partner, has rapidly become a leader in promoting Salesforce adoption. Stony Point offers productivity applications, consulting, training and recruiting services throughout the world with a focus on helping clients recognize a high rate of return on their investment in Salesforce. To learn more about Stony Point and the products and services offered, please visit http://www.stonyp.com.