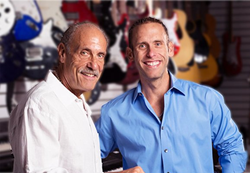 American Jewelry and Loan is proud to collaborate with the Pawns.com team.
Northbrook, IL (PRWEB) February 10, 2016
Pawns.com announced that the National Pawnbrokers Association (NPA) accepted their membership as an industry partner. Pawns.com is an online marketplace which matches online consumers to local pawnshops.
"We're proud to be a part of the pawnbroking community," says Michael Pocrnich, leader of the Pawns.com team. "The NPA advocates for the future of the industry, and we are working to be a critical part of that future."
For industry expertise, Pocrnich and his team have partnered with American Jewelry and Loan. "Combining their team's experience with pawns.com's state-of-the-art technology will bring the pawning experience to a new audience" said Pocrnich.
Pawns.com has already helped thousands of people connect with local pawnshops in their area. "We've seen customers who have never been to a pawnshop before get cash for everything from sports memorabilia to luxury watches simply by using this online platform" Pocrnich added.
"The NPA's motto is 'Keeping Our Industry Strong'", said Pocrnich, "pawns.com is designed to do exactly that, establishing a digital platform to connect pawnbrokers to the customers they can serve."
"American Jewelry and Loan is proud to collaborate with the pawns.com team. We have confidence in their ability to connect pawnbrokers with consumers in ways not previously available" said Les Gold, owner of the iconic Detroit pawnshop.
Visit pawns.com for more information or to register today!