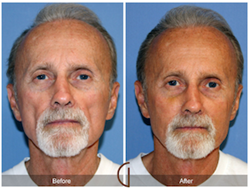 Dr. Sadati has pioneered the use of PRP in cosmetic procedures with success, such as with fat grafting.
Newport Beach, CA (PRWEB) February 18, 2016
According to Dr. Kevin Sadati, a popular Orange County facial plastic surgeon, "platelets are the blood's emergency responders. They contain growth factors and healing properties that boost the immune system." In the interview he explains that to harness the power of platelets in cosmetic procedures, he draws blood from the patient and spins it through a centrifugal processing system to separate the platelets from the red blood cells. A serum is then created from the remaining plasma and injected back into the patient's skin.
Dr. Sadati has pioneered the use of PRP in cosmetic procedures with success, such as with fat grafting. Both the vampire facial and the vampire facelift use PRP to plump skin. The main difference with the use of PRP in these types of procedures is the delivery. The vampire facial is done through microneedling. A microneedling device punctures the skin with tiny needles to increase collagen production. PRP is then injected to boost the skin's natural healing process. The vampire facelift, on the other hand, is done through normal injection and can be combined with another dermal filler like Restylane or Juvederm. Injections typically target the eyes and cheeks, but can be used on the entire face. According to Dr. Sadati, "by using PRP as part of a filler procedure, patients will see immediate results."
Patients who undergo a vampire facial or facelift can typically return to normal activity within a day. According to one RealSelf user, the redness was almost gone the same day, and the patient felt great. In fact, 80 percent of RealSelf users who have tried one of the vampire treatments recommend them.
However, when PRP is used by itself, the results are more mixed. According to some RealSelf users, there was no noticeable difference after using PRP by itself. In contrast, another user reported glowing results. Because of the mixed results of the use of PRP by itself, many doctors enhance it. Dr. Sadati, for example, will typically combine PRP with fatty tissue before injecting it into the face. "I don't personally believe that PRP refreshes the skin on its own," Dr. Sadati explained in the interview with RealSelf, referencing a clinical study he conducted in 2006. During the study, 580 patients all showed "greater graft volume retention," or fuller and better results, when fat was used in the PRP treatment.
Dr. Sadati is a board certified facial plastic and reconstructive surgeon, otolaryngology/head and neck surgeon, and is a proud diplomate of the American Board of Cosmetic Surgery. He is known for being an exceptional, highly specialized and experienced surgeon. His work is widely respected by his peers and patients. He also pioneers new and improved methods, such as using PRP in some cosmetic procedures. Dr. Sadati cares about his patients and ensures each one has a relaxed and safe experience. For example, he uses local anesthesia and twilight sedation instead of the more expensive and potentially dangerous general anesthesia. For more information on Dr. Sadati and the range of cosmetic procedures he offers at the Gallery of Cosmetic Surgery, visit his website at http://www.galleryofcosmeticsurgery.com/.