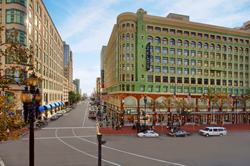 Houston, Texas (PRWEB) February 10, 2016
Digital gift giving takes on new ease, convenience and technical sophistication with exciting new options at 14 luxury hotels and resorts of Benchmark Hospitality International, a leading U.S.-based hospitality management company. Benchmark's new eGift program is a fast and flexible way to send an elegant, exciting gift via desktop, laptop or a range of mobile devices using text, e-mail and Facebook. Or customers can print out the cards and mail, or deliver in person, for those recipients who would prefer to have something in hand, rather than on a mobile device.
Gifts can include a custom adventure excursion at a luxury tropical island resort or a sophisticated downtown hotel, dinner at an award-winning restaurant, luxurious spa treatments, breakfast in bed, a round of golf or a celebratory bottle of Champagne. The options for creating a customized gift are endless and all can be created securely from a laptop, tablet or mobile phone. Gift givers can choose from an array of specially-designed eGift cards that cover every occasion. Mark an anniversary, birthday or special occasion, say thank you, or provide a romantic getaway – these elegant eGift cards can be sent in a second, at the touch of a screen.
Benchmark Hospitality International partnered with eGiftify, a noted e-commerce technology company, to create the new program. Launched at participating hotels within the company's Personal Luxury Resorts & Hotels®- and Benchmark Resorts & Hotels®-brand portfolios and just in time for Valentine's Day, the new program is designed for both individuals and companies, according to Lisa Stice, vice president, global online marketing. "Benchmark's eGift is a great way to show appreciation to a customer, reward an employee, mark a special anniversary -- or surprise someone you love," she notes.
Individual consumers can send gifts instantaneously via a mobile device, taking the worry and embarrassment out of forgetting an important occasion. The eGift card goes securely from device to device, and can be used at selected Benchmark hotels across the United States and the Caribbean. The gift appears on the recipient's screen within an attractive, personalized image. There is no need for a plastic gift card that can be misplaced. "Just book your reservation using your eGift card through the property's website and the recipient can claim your special gift." Ms. Stice says.
The participating hotels and resorts offer a wide choice of destinations, experiences, pricing and services. Guests can explore Washington State's wine country, tee off at a championship golf course in Orlando, enjoy San Francisco's legendary attractions, rejuvenate at a luxury spa in suburban Chicago, or bask on a tropical beach on the Caribbean island of Curacao. "Creating a special, customized eGift is not only easy," notes Lisa Stice. "It's simple, secure, personal and extremely convenient."
Participating in Benchmark Hospitality's eGift program include the following:
Personal Luxury Resorts & Hotels
https://www.egiftify.com/gift-card/personalluxury#designTreat1
Hotel Zelos in San Francisco, California
The Inn at Rancho Santa Fe near San Diego, California
Costa d'Este Beach Resort & Spa, Vero Beach, Florida
Marenas Beach Resort in Sunny Isles (Miami), Florida
Villas of Grand Cypress in Orlando, Florida
Willows Lodge in Woodinville, Washington, near Seattle
Benchmark Resorts & Hotels
https://www.egiftify.com/gift-card/benchmark#designTreat1
Chaminade Resort & Spa in Santa Cruz, California
The Chattanoogan in Chattanooga, Tennessee
Doral Arrowwood Resort in Rye Brook, New York
Eaglewood Resort & Spa in suburban Chicago, Illinois
The Heldrich in New Brunswick, New Jersey
Hotel Contessa in San Antonio, Texas
Santa Barbara Beach Resort on the Caribbean island of Dutch Curacao
Stonewall Resort in Roanoke, West Virginia
About Benchmark Hospitality International
Benchmark Hospitality International® is a recognized global leader in the management and marketing of resorts, hotels and conference centers. The company's two distinctive portfolios of properties, Benchmark Resorts & Hotels® and Personal Luxury Resorts & Hotels®, represent the finest in guest-dedicated hospitality in unique destinations across the United States, in the Caribbean and Japan. Benchmark Conference Centers® maintain the highest standards for certification in meeting excellence. Benchmark Hospitality was launched in 1980 as an independent company and today operates worldwide from offices in The Woodlands (Houston), Texas, and regional offices in New Jersey, Washington State, Japan and Chile. For additional company information visit http://www.benchmarkhospitality.com. To become a fan on Facebook, visit http://www.facebook.com/BenchmarkResortsandHotels, or follow us on Twitter at http://www.twitter.com/BenchmarkHotels.
# # #