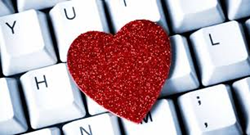 Valentine's Day is often a time for the first date. Taking a few extra steps to make your first date safer will give you peace of mind.
Las Vegas, NV (PRWEB) February 10, 2016
Valentine's Day is a time to celebrate love for some and a time to look for that special someone for others. Americans are increasingly looking for love online and according to Nielsen data, 1 in 10 adults now average more than an hour every day on a dating site or app. This makes Valentine's Day the perfect opportunity to use AlertID, the nationwide free safety alert and virtual neighborhood watch app, to share useful tips about online dating that will help keep people safe when looking for Mr. or Mrs. Right.
AlertID, your neighborhood safety network, encourages people to be proactive about safety. "Valentine's Day is often a time for the first date. Taking a few extra steps to make your first date safer will give you peace of mind," said AlertID Founder, Keli Wilson.
Please take a moment to review these important tips before going online:
1. Protect Yourself: Use a disposable email account for contact purposes. Don't give out your home phone number or address.
2. Personal information: Keep personal information personal. It's ok to list the city you live in but not the street you live on.
3. Don't be fooled: Although it seems like an obvious rule, genuine daters who are looking for romance and companionship are not likely to ask someone they have just met for money.
4. Meeting in person: Meet your new match in a public setting for the first time. Try to make your first meeting during the day, and never agree to meet your date at his or her home. Also, stay safe by providing a friend with as much information as possible regarding the person you're meeting and your plans.
5. Trust your gut: If you have a suspicious feeling about someone, follow your instincts. Stop all communications with anyone who makes you feel uncomfortable. If you're uncomfortable on a date, cut the date short and call a friend to let them know the date is over. Additionally, you can block the person's telephone number if you want to terminate the relationship.
About AlertID
AlertID, the nationwide neighborhood safety network, is available for free online or on a smartphone and provides information needed to keep families safe. Millions of members in all 50 states and more than 30 countries are able to view an interactive map displaying crimes, sex offenders and neighbor posts in their selected neighborhoods.
Members can receive alerts and information for multiple locations such as their homes, schools or offices including law enforcement emergency alerts, crime and sex offender alerts, severe weather alerts, fire and earthquake alerts, a library of prevention tips and much more. Additionally, the app acts as a virtual neighborhood watch where members can share photos and information regarding suspicious activity with neighbors.
The AlertID mobile app is available for download on iTunes or the Android market. To sign up for a free AlertID account or for more information, please go to http://www.AlertID.com.