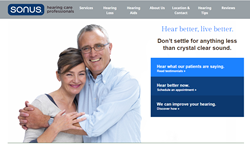 Arlington, VA (PRWEB) February 10, 2016
It can be difficult to explain what it's like to live with hearing loss, and it can also be difficult to empathize with those who suffer from it. What at first just seems like a frustrating condition actually runs much deeper—and can present several challenges and obstacles for those who struggle with hearing on a daily basis.
For those who truly want to understand hearing loss, the best way to learn about the condition is from the individuals that live with it on a daily basis. Hearing loss is about much more than statistics and medical definitions—it's about human life, relationships, and overcoming challenges.
That's why Sonus Arlington Hearing Center has published an article titled The Best Blogs on Hearing Loss, which is a collection of the best blogs on the web written by people living with hearing loss in diverse careers and circumstances.
One notable blog, titled Living With Hearing Loss, was created by Shari Eberts. Eberts is a hearing health advocate and frequent writer and speaker on the topic of hearing loss. One of her goals is to end the social stigma associated with hearing loss and to create a community for those dealing with similar issues.
The article also includes links to the top posts from each blog. Popular articles address topics such as coping with hearing loss, playing music with hearing aids, dealing with hearing loss at work, breaking the stigma of hearing loss, the personal effects of hearing loss, and more.
About Sonus Arlington Hearing Center
Sonus Arlington Hearing Center is a full-service audiology practice located at 2500 Wilson Blvd, Suite 105 in Arlington, VA. The practice offers comprehensive hearing care services to help members of the local community hear better, live better, and reconnect with loved ones.
Contact:
Dr. Sandra Romano
Sonus Arlington Hearing Center
http://www.sonusarlington.com
703-997-7167