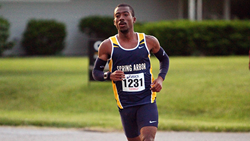 Spring Arbor, Mich. (PRWEB) February 11, 2016
On February 13, Spring Arbor University graduate Nathan Martin ('13, Three Rivers, Michigan) will compete against the nation's top marathoners at the U.S. Olympic Marathon Trials in Los Angeles, California for a chance to represent his country at the 2016 Summer Olympics.
Martin qualified for the trials back in October 2014 by hitting the U.S. Marathon "B" Qualifying Standard at the USA Track & Field Marathon Championships in Minneapolis, Minnesota. He finished sixth in the event with a time of 2:15:47 – narrowly missing the "A" standard of 2:15:00, which provides athletes with funding support.
The men's and women's U.S. Olympic Marathon Trials are set to air live for the first time ever. The nationally televised event will be presented by NBC with coverage starting on Saturday, Feb. 13 at 1 p.m. ET.
The top three women and men in the trials are named to the U.S. Olympic Marathon team. The fourth finisher is considered the alternate, and is named to the team if one of the top three finishers withdraws before the race with injury.
The upcoming U.S. Olympic Marathon Trials will mark the third marathon Martin has ever run. His first came at the 2013 NAIA Outdoor Track & Field National Championships where he finished the 26.2-mile race in 2:19:18. His time beat the previous NAIA national record – which had stood for 28-years – by nearly two minutes. He went on to receive the solo distinction of Outstanding Performer of the national meet, the highest athletic honor.
"I am inspired every time I look at Nate and think of how God has worked in him through his SAU experience and into his post-college life," said Jeremy Smith, SAU Director of Cross Country/Track & Field. "The life-challenges Nate has overcome through his faith are just as amazing as the athletic achievements with which he has been blessed."
Spring Arbor University Women's Cross Country and Track & Field Head Coach Bryan Burk, who is a close friend and former teammate of Martin's, adds, "I have had the joy of having a close relationship with him and seeing him at his best and worst times. I have been very impressed with Nate because he is 100 percent driven by the support and love of those around him. He races with a heart completely different than those around him, which gives him freedom and the ability to push when others can't. He relies on Christ for all his strength, and his growth in his faith has been very evident over the years. I am proud to call him my friend and excited to see where his journey continues to go."
Martin is the most decorated athlete in the history of the Spring Arbor University cross country and track & field programs. He captured three NAIA and six National Christian College Athletic Association (NCCAA) national titles, while also earning eight conference championships in track and one in cross country.