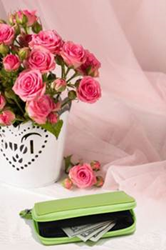 Fortunately, there are many budget-friendly ways to show that special someone how much they mean to you, which is why we have developed these set of tips.
Boston, MA (PRWEB) February 11, 2016
As Valentine's Day closes in, some consumers have started planning an extravagant day for that special someone in their life. If consumers are on a budget, a sensational day with their significant other can seem daunting. To help with this process, American Consumer Credit Counseling offers tips to achieve a fun and budget friendly Valentine's Day.
"With Valentine's Day comes the added pressure of creating a memory-worthy day that is often filled with expensive flowers, chocolates and a fancy dinner out with your significant other," says Steve Trumble, President and CEO of American Consumer Credit Counseling, which is located in Newton, MA. "Fortunately, there are many budget-friendly ways to show that special someone how much they mean to you, which is why we have developed these set of tips."
According to fundivo, only 54.9 percent of American consumers celebrated Valentine's Day in 2015. The total amount spent on Valentine's Day increased 8.3 percent from 2014 – hitting a record breaking $18.9 billion. The largest spending category was jewelry, where consumers spent nearly $5 billion. Dinner and an evening out reached $3.6 billion, while flowers came in third at $2.1 billion. Although the overall spending average in 2015 was $142, men spent almost $200 where women spent under $100.
ACCC offers tips to a budget friendly Valentine's Day:
1. Make a card – Forget searching for that overpriced "perfect card" and take the time to design one, making sure that special someone knows exactly how they make you feel.
2. Fancy dinner in – Rather than going out to an expensive dinner, create that same romantic atmosphere at home. Not only will you save money, but you will also have the opportunity to impress your significant other with your cooking skills.
3. Meaningful music – Compile all of the tunes, especially that one you both think of as "our song," and create a play list.
4. DIY gifts – Instead of buying that expensive piece of jewelry, consider making a photo collage or writing a poem to reminisce on all the great times that have been spent together.
5. Groupon or LivingSocial – Browse through Groupon or LivingSocial for deals on activities or restaurants.
6. Movie night – Skip going to the movies with all the other couples to see the romance film of the year. Snuggle up by the fire, pop some fresh popcorn and rent a romantic film.
7. Celebrate your love on another day!
ACCC is a 501(c)3 organization that provides free credit counseling, bankruptcy counseling, and housing counseling to consumers nationwide in need of financial literacy education and money management. For more information, contact ACCC:

For credit counseling, call 800-769-3571
For bankruptcy counseling, call 866-826-6924
For housing counseling, call 866-826-7180
Or visit us online at ConsumerCredit.com
About American Consumer Credit Counseling
American Consumer Credit Counseling (ACCC) is a nonprofit credit counseling 501(c)(3) organization dedicated to empowering consumers to achieve financial management and debt relief through education, credit counseling, and debt management solutions. In order to help consumers reach their goal of debt relief, ACCC provides a range of free consumer personal finance resources on a variety of topics including budgeting, credit and debt management, student loans, youth and money, homeownership, identity theft, senior living and retirement. Consumers can use ACCC's worksheets, videos, calculators, and blog articles to make the best possible decisions regarding their financial future. ACCC holds an A+ rating with the Better Business Bureau and is a member of the National Foundation for Credit Counseling® (NFCC®) and the Association of Independent Consumer Credit Counseling Agencies. For more information or to access free financial education resources, log on to ConsumerCredit.com or visit TalkingCentsBlog.com.