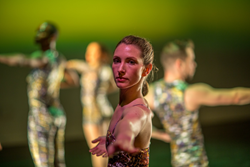 Brooklyn, NY (PRWEB) February 11, 2016
See chemistry in motion! Veteran Choreographer Ben Munisteri teams up with Chemist Roxie Swails https://chemistry.lafayette.edu/people/roxy-swails/ to create new dance entitled Antimony (51),named for the periodic table's 51st element, for a world premiere at Brooklyn Academy of Music, NY this Spring 2016.
Choreographer Ben Munisteri Presents Antimony (51) at the Brooklyn Academy of Music, Fisher Fishman Space, 321 Ashland Pl, Brooklyn, NY 11217, this April 2016 on the 21st and 22nd at 7:30pm and April 23rd at 2pm and 7:30pm. Closest Subways are: Barclays Center 2/3/4/5/B/D/N/Q/R and Lafayette St C train. Running time is 55 minutes no intermission. Tickets are $22 for regular admission and $15 for students and seniors and can be purchased at: http://antimony.brownpapertickets.com/
Antimony (51) continues Ben Munisteri's efforts at creating formalist, ensemble dances wherein structure, design, and aesthetic take the foreground. Named for the periodic table's 51st element—a silvery mineral that exists on earth only in combination with other elements—the dance uses atomic structure as a design template and the element's behavior as a metaphor for human 'aloneness' and companionship. But antimony also suggests logical paradoxes. Maybe the paradox is that often we feel like we can't exist alone yet we nonetheless do. Yet the dance contains no solos. Ben Munisteri will collaborate with chemist Roxie Swails.
In Antimony (51,) Munisteri revisits inveterate formalism but tempers his historical velocity in work with adagio and gentleness. Set to songs from cellist/vocalist Jody Redhage's CD of memory and minutiae, the choreography is shaped by Redhage's haunting and prepossessing music.
The program will be completed by sections from last year's Petrichor https://vimeo.com/121614175, set to music by Australian digital-music mixer Pogo.
Lighting design by Kathryn Kaufmann
The season features dancers Eric Sean Fogel, Katie Weir, Angela Maffia, Shane Rutkowski, Shomeiko Ingham, and Kenneth Stephen Neil.
Ben Munisteri http://www.munisteri.com/ is a dance artist and educator, making ensemble works for small groups of dancers. His company, Ben Munisteri Dance Projects, toured to many venues around the U.S. and internationally. His work has been presented by The Joyce Theater, Jacob's Pillow Dance Festival, Celebrate Brooklyn festival, Dance Theater Workshop, The Whitney Museum, Lincoln Center Out of Doors, and other venues. He has received many grants, commissions, and residencies, including awards from the National Endowment for the Arts, the New York Foundation for the Arts, the Mid-Atlantic Arts Foundation, the Jerome Foundation, the National Performance Network, and the National Dance Project. He is the Mellon Foundation Choreographer-in-Residence for Lafayette College's Choreographers on Campus initiative.
For more information contact Publicist Fran Kirmser at fran@frankirmser.com or 212 554 3431.
XXXXX