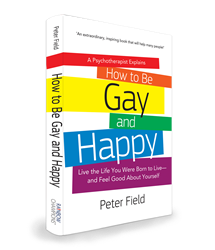 "An immensely readable and informative book that guides the reader through the entire happiness-enhancing process."
London (PRWEB) February 13, 2016
Leading British psychotherapist Peter Field's inspiring new book "How to Be Gay and Happy" has just been released.
The title says it all. Backed by solid research the book delivers a clear concise blueprint for all gay, lesbian, bisexual, trans, queer and questioning persons to enjoy a happier, more satisfying life.
Says Field, "The book explodes the myths that hold gay people back and explains why we feel the way we feel. It takes us from self-doubt and internalized homophobia to the celebration of who we are."
"How to Be Gay and Happy" is immensely readable and just as informative, guiding the reader through the entire happiness-enhancing process.
In its 330 pages Field explores the blocks to happiness: the ugly face of homophobia, myths about being LGBTQ, and the influence of society's religious attitudes. He goes on to discuss all of the essential elements of coming out, and accepting our self along with strategies for putting aside our fears and living assertively and happily. In essence, this book shows us how to see things—and ourselves—in a fresh, new light, free of the events, prejudices and myths of the past.
Adds Field, "Happiness is a conscious decision—a series of choices we must make for ourselves. The truth is that we alone are responsible for our own happiness. When we recognize the blocks to happiness—things that have stopped us shining—then we can learn to deal effectively with them. By developing happiness habits and learning how to cultivate joy, happiness is within the reach of every gay person."
Field's previous bestselling book, "The Chi of Change", shows how our subconscious mind is programmed to make us feel the way we feel; how these programs can be rapidly changed through the right kind of therapy; and how even our most difficult feelings and emotions can help us transform our life for the better.
Known as "the therapists' therapist", over the course of 30 years Field has become a globally-recognized authority on psychotherapy, hypnosis and health. As Director of Rainbow Champions, he has worked with LGBTQ people of all ages improving self-esteem and confidence.
'How to Be Gay and Happy' is available from Amazon.