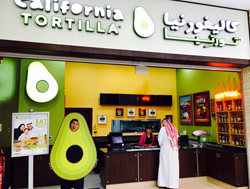 Qatar is a growing, dynamic and quality-driven market—an ideal fit for the fresh food, friendly atmosphere and customer service that California Tortilla provides.
Washington, DC (PRWEB) February 11, 2016
With the launch of three additional restaurants in Qatar this January, popular American restaurant chain California Tortilla continues its expansion in the Middle East throughout the Gulf Cooperation Council (GCC) states. Over the next 5 years, California Tortilla plans to open 17 additional franchises in the GCC states under the management of master franchise Roots for Hospitality & Services, LLC.
The number of American restaurant chains in Qatar has grown exponentially in recent years, as not only one of the wealthiest nations in the world but also home to a large installation of U.S. military personnel and foreign workers. Qatar-based Roots for Hospitality & Services recognized an opportunity to bring California Tortilla to the region, given the growing demand for American brands and menu items.
Here in the U.S., California Tortilla has excelled in the fast casual sector by building a strong base of loyal customers for their fresh food, outstanding service and innovative promotions. Similar to the dining trend witnessed in the U.S., the Middle East market has begun to expand beyond just the fast food giants like Pizza Hut and McDonalds to embrace more upscale fast casual options, combining a higher level of presentation and sit-down dining atmosphere with fast counter service. While keeping consistent with the brand characteristics American patrons know and love, California Tortilla Doha is making a few changes, such as serving food on china and with real silverware rather than using disposable options.
"The growth of California Tortilla in Qatar is a testament to the acceptance of our brand in the Middle East," said Bob Phillips, President of California Tortilla. "We look forward to continued success in international franchising through our partnership with Roots for Hospitality, a leader in the Middle East's burgeoning food and hospitality industry."
"We are excited to open our fourth International location and bring the unique flavors of California Tortilla to food lovers in Doha," said Simon A. Nehme, Co-owner of the Qatar California Tortilla branches at Salwa Road, Jeryan Al Meera Mall, 01 mall and at The Pearl Qatar. "Qatar is a growing, dynamic and quality-driven market—an ideal fit for the fresh food, friendly atmosphere and customer service that California Tortilla provides."
The fresh flavors provided by California Tortilla's menu–not to mention the more than 75 hot sauces on the famous "Wall of Flame"–is a unique and welcome addition to Qatar. Food is prepared using the same recipes as in the U.S., but other modifications have been made to meet cultural tastes. Pork is not offered on the Doha menu at all; in its place, Roots for Hospitality and Services has added blackened shrimp as an additional protein option. The restaurant also serves up smoothies and ice cream creations, which are not offered at U.S. California Tortilla locations.
About California Tortilla
Fast Casual leader California Tortilla serves fresh, made-to-order, delicious, award-winning signature burritos, quesadillas, and salads all grounded in a foundation of Mexican cuisine yet combined with imaginative flavor combinations and customization opportunities. They are Mexican Re-Imagined. Based in Rockville, MD, the fast-casual chain has nearly 50 locations across the United States in Maryland, Virginia, West Virginia, Pennsylvania, Delaware, New Jersey, Florida and the District of Columbia, as well as four in Qatar. They are best known for their fresh food, unique recipes, innovative promotions, customer and community engagement via Twitter and Facebook.