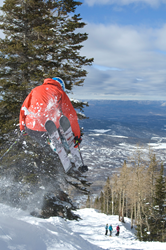 "Springtime in Grand Junction, Colorado is an amazing season,"
Grand Junction, Colorado (PRWEB) February 15, 2016
What's better than getting a great deal on a ski vacation? Getting a great deal on a ski vacation that offers more than just downhill thrills. The City of Grand Junction's Visitor & Convention Bureau, located in Colorado's Wine Country, has teamed up with Powderhorn Mountain Resort in Mesa, Colorado to give guests the opportunity to experience the joy of downhill skiing and snowboarding at a great rate while also discovering all of the charm of western Colorado.
Powderhorn Resort, a family-friendly gem of a resort, is known for its 1600 acres of incredible tree skiing and impeccably groomed terrain accented with spectacular views. New for the 2015-2016 season is the Flat Top Flyer, a high-speed chairlift that makes exploring the mountain faster and easier. New to the sport? The Powderhorn Ski & Ride Center is available for beginner, intermediate and expert lessons.
"Powderhorn Resort is one of Colorado's Gem Ski Resorts," said Brad Taylor, chair of the Grand Junction Visitor & Convention Bureau Board of Directors. "The owners have invested in a new detachable quad lift, which makes skiing and riding at Powderhorn an even more enjoyable experience."
From February 5 – April 3, 2016, Grand Junction's Spring Ski and Stay Packages combine the best of late season skiing in Colorado at a great price. Starting at $119 per person, per day and includes lodging at your choice of one of 15 property options and a single day lift ticket. Multi-day lift tickets are also available.
After a full day on the slopes, enjoy all that Grand Junction has to offer, including a wide variety of dining options and more than 20 wineries that showcase the best of Colorado's burgeoning wine scene. In addition to the culinary and vineyard attractions, Grand Junction enjoys a location that allows guests to ski in the morning and bike in the afternoon.
"Springtime in Grand Junction, Colorado is an amazing season," said Mistalynn Meyeraan, spokesperson for the Grand Junction Visitor & Convention Bureau. "Not only can you experience blue bird days and temperate weather on the slopes at Powderhorn, but you can also explore the miles of biking and hiking trails, plus enjoy the local wine scene. There are very few places in Colorado where this is all possible in one region."
Getting to Grand Junction is easy by train, airplane and automobile. A hub for the Amtrak train system, Grand Junction is also conveniently located on the I-70 interstate. The Grand Junction regional airport welcomes direct flights to and from surrounding destinations including Dallas/Ft. Worth, Houston, Los Angeles, Salt Lake City and Phoenix. Skiers and snowboarders can be on the slopes in less than an hour after arriving in Grand Junction. There is also a shuttle available for $20 to travel between Grand Junction and Powderhorn Mountain Resort, reservations are required by calling 970-434-3541.
To learn more about Grand Junction's Spring Ski & Stay packages, or to book your springtime getaway to Colorado, visit http://www.visitgrandjunction.com/ski-stay/ or call 888-882-4796.
About Grand Junction (http://www.visitgrandjunction.com). Grand Junction is Colorado's Wine Country featuring 22 wineries with year-round tasting rooms, and boasting more than 275 days of sunshine annually which helps produce much of the state's peach and fruit crop. It is the largest city in Western Colorado, located near the Colorado River between Salt Lake City and Denver on Interstate 70. At an altitude of 4,586 feet, warm summers and moderate spring, fall and winter seasons allow for year-round golf, hiking and world-renowned biking. Among Grand Junction's spectacular red cliffs and winding canyons are the 11,000-foot Grand Mesa, the world's largest flat-topped mountain, the 7,500-foot Book Cliffs including the Wild Horse Area, and the 7,000-foot Colorado National Monument. The high alpine Grand Mesa features Powderhorn Mountain Resort with downhill skiing, as well as incredible Nordic skiing opportunities. Other attractions include three national scenic byways, rafting, hunting, fishing, extensive public art displays, museums, and a vibrant downtown. Grand Junction lies in the heart of the Colorado-Utah Dinosaur Diamond and the Grand Circle.