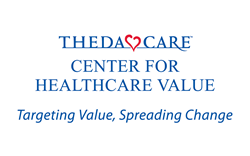 "The content is critical for any leader who aspires to become a lean leader." -Luke Poppish, senior lean advisor of South Shore Hospital in Massachusetts
Appleton, Wis. (PRWEB) February 12, 2016
The ThedaCare Center for Healthcare Value is hosting its second Lean Leadership Series at Zuckerberg San Francisco General Hospital on April 5-7. The series is a multi-day, multi-workshop event designed to teach leaders how to practice new behaviors and create new habits. The workshops cover a broad range of topics, including coaching skills, the scientific method of problem solving and the key components of enterprise excellence. CE credits are available.
The series is designed to transform healthcare professionals into leaders who drive higher value in their organizations. "Management in a lean organization is built on leaders who coach, ask effective questions and solve problems," said Marta Karlov, the Center's director of education. "Fostering this new kind of leadership is the first step on healthcare's Transformation Roadmap."
The Lean Leadership Series allows participants to develop their own learning tracks by registering for up to three of the following sessions:

Defining and Deploying Strategy
Moving Beyond Budgeting in Healthcare
Implementing Rolling Forecasts in Healthcare
The Building Blocks of Enterprise Excellence
Creating a Lean Management System
A gemba visit to tour the host site, Zuckerberg San Francisco General Hospital
The series blends classroom learning, gemba tours, and networking to offer a relevant, hands-on mix of experiences for leaders.
"The content is critical for any leader who aspires to become a lean leader," said Luke Poppish, senior lean advisor of South Shore Hospital in Massachusetts. "This is a 'just do it' for all organizations struggling to find their way on their lean journey."
Leah Mitchell of Salem Health stated, "[Coaching for Improvement] was the most valuable workshop I've ever attended. As an executive healthcare leader, it caused me to reflect on how I lead and how to develop others."
Lean Leadership Series

Insights from experts across a variety of disciplines
Choose three of six innovative learning experiences, including one gemba
Highly interactive sessions to allow for practice and learning from peers
CE credits available
Visit createvalue.org to learn more or to register
Contact Sara Thompson at sthompson(at)createvalue(dot)org with any questions
ThedaCare Center for Healthcare Value
The ThedaCare Center for Healthcare Value is an education institute that believes we must have three essential elements for sustainable change in healthcare: Delivery of care designed around the patient; payment and incentives based upon value and outcomes; and transparency of performance (quality and cost) throughout the healthcare system. Founded in 2007 and headquartered in Appleton, Wisconsin, we are a small not for profit with a big mission to help change the healthcare industry. Learn more at: createvalue.org.
###