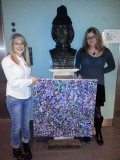 "I hope this art piece will get people thinking about the complexity of what we all do. It is such a complicated piece. In science you deal with a lot of details. And it's rare when you step back and think of the grand question.
New York, NY (PRWEB) February 14, 2016
New York City Chelsea-based artist Lisa Beth Older proudly announces that her painting My Inner Cosmos is now hanging in the American Museum of Natural History's Department of Astrophysics in New York City.
Recently, world renowned Astronomer Dr. Rebecca Oppenheimer, curator and chairwoman of the American Museum of Natural History's Department of Astrophysics commissioned Older to create a painting to be hung in the Museum's Astrophysics Department.
This department is visited by international research scientists, graduate students, celebrities and dignitaries, such as former U.S. President Jimmy Carter, actress Susan Sarandon, Musician David Byrne, who were there recently.
Dr. Oppenheimer feels Older's unique style of blending and bending colorful acrylic paint will help educate people about the outer universe and also their inner universe which she feels is what artwork is all about. It's to get people thinking.
My Inner Cosmos (36 by 36 in.) was created using Older's signature blending and bending technique. Older said this painting is an amazing spectrum of colors and textures with an alien-like feel, a snap shot of cosmos. "My art of bending and blending paint is a reflection of the complexity of our society and the times we live in today. We live in a "texturized" society with a cross blend of cultures, buildings, food, technologies, creative energy and expressions - a sensory overload. These impressions translate into my work, which is rather perceptual than conceptual," said Older.
Older begins her technique by blending a wide array of different colors of acrylic paint on a canvas. She believes all colors match. She then bends the paint to get a texture. She said many artists blend, but she has not seen anyone bend the paint. Older said, "Maybe someone is doing it in another universe or galaxy!" She bends the paint by digging into the paint with a brush, Butcher Knife or other object and blends it in a certain way so that it becomes like a rainbow of colors in one stroke. "I use my subconscious to bend it and show the layers below," said Older. She then lets the paint dry slightly and then she layers, maneuvers, manipulates bends and stretches the paint into unworldly shapes. She describes the results as imaginative, indulgent, sensual, emotional, energetic, quite three dimensional and esoteric.
Oppenheimer thinks My Inner Cosmos is perfect for displaying in her department, "It is just beautiful to look at. Every time you look at it you see something different. It also expresses the complexity of what we all study in the department, which is the sky and the universe as a three or four dimensional entity that we are all trying to understand," said Oppenheimer. She added, "The name My Inner Cosmos is interesting because it draws your attention inward. Many of people at the museum also study biology, the process of what cells do, and genetics. It is a perfect combination of what we all do on the science side of the museum. It exemplifies our work."
Older describes her artwork as abstract expressionism. Her artwork has been compared to the works of the famous Abstract Expressionist Artist Jackson Pollock, who became known for his drip technique, who she said she does not emulate. However, she is like Pollock in that she taps into her subconscious mind and the energy of her inner and outer universe when creating her work.
She also believes this energy that is inside of us is how people connect or don't connect. She felt that she connected with Oppenheimer when they met. Older said, "It's like my internal universe and her external universe kind of collided together and we had an immediate, instant attraction." Oppenheimer agreed, "We share a similar appreciation for learning and discovery. This is what artwork is supposed to do."
Oppenheimer said, "I hope this art piece will get people thinking about the complexity of what we all do. It is such a complicated piece. In science you deal with a lot of details. And it's rare when you step back and think of the grand question. So I hope it spurs people to do that."
To see more of Lisa Beth Older's work go to http://www.facebook.com/lisaolderartist, or visit Older's Hardship of Hope Solo Exhibit, with eight 36x48 inch paintings on display in the lobby of the historic old American Express building at 65 Broadway in New York City. The exhibit was originally scheduled to end last summer, but has been extended until further notice. The exhibit is free and open to the public 24/7. See more of Lisa's art on Facebook at https://www.facebook.com/profile.php?id=100002366292396&fref=photo
by Dr. JoAnne Castagna, Ed.D., freelance writer based in New York City. She can be reached at http://www.drjoannecastagna.com