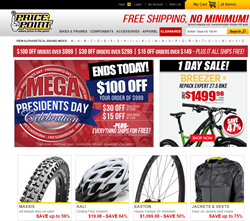 "So excited about the new home page, valued long time customers told us what they wanted to see, and the results are beautiful"
(PRWEB) February 16, 2016
Price Point, Americas leading online bike retailers has rejuvenated its home page in order to highlight 1-day sales, unlimited free shipping and some of the best giveaways in the industry. A cleaner, sharper set of graphics have replaced Price Point's signature look that customers have come to know over the past several years. The new layout also features more intuitive placement of promotions and one day sales. Also noticeable is the highly coveted Google Trusted Store badge distinction earned by Price Point in the bottom right hand corner. Brand new color ways and fonts make the site easy on the eyes and a pleasure to scroll through.
One of the biggest additions is a banner across the top of the page announcing unlimited free shipping with no minimums, this is definitely a highlighted feature not offered by any other competitor in the industry. This ties into a market test that Price Point has been running to assess the viability of permanently offering free shipping. Price Point Customer Service Manager, Heather Brown comments "The test has been very successful so far as there has been an enthusiastic response; our only concern thus far is customers that make several very small purchases in the same day. Customers will really need to bundle orders if this is going to be cost effective to offer".
Price Point has also added a giveaway section to highlight the latest giveaway. Price Point regularly offers giveaways of apparel, components and some of the industry's hottest gear. If shoppers check back often they will even find the chance to win a bike or frame. "Rebecca Pisicoli, Director of Marketing for Price Point adds "So excited about the new home page, valued long time customers told us what they wanted to see and the results are beautiful". To take a look at the new Price Point home page visit http://www.pricepoint.com. To enter for the latest giveaway, Fox Rampage Pro Carbon helmet visit http://www.pricepoint.com/giveaway/