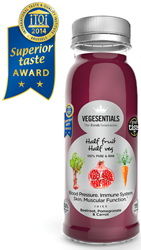 "The Vegesentials story is something you just want to get behind and support; once you try the fruit and vegetable blends you understand the talent Patience has for making juices that are as good as they are healthy."
Bloomfield Hills, Michigan (PRWEB) February 17, 2016
All Natural Freshness, L.L.C., a Delaware limited liability company with offices in Bloomfield Hills has partnered withThe London-based Vegesentials Ltd. to manufacture and distribute the Vegesentials line of juices throughout North America. The Vegesentials, multiple international award-winning cold pressed fruit and vegetable drink brand will be launched in the United States in March 2016 under the Vegesentials USA brand.
Vegesentials is the United Kingdom's 1st cold pressed vegetable and fruit drink brand. Launched in June 2012 with Whole Foods Market stores in London, Vegesentials is now available at multiple retailers and wholesalers throughout the United Kingdom, Belgium, Denmark, and Dubai. Founded by Patience Arinaitwe and her husband, Andrew Mugadu, Vegesentials incorporated the high pressure processing (HPP) technology into their juices as a superior method to deactivate pathogens and spoilage bacteria, extend shelf life, without compromising the great taste and nutritional value of a freshly made juice.
"We are incredibly excited about Vegesentials launching in the USA. To imagine that the vegetable juicing and the idea of The Fresh Generation started in our little kitchen and is growing worldwide, is something that hasn't really sunk in for both Andrew and me! It's been an exhilarating as well as challenging journey but launching in the USA definitely is the highlight for the Vegesentials brand. This is a once in a lifetime opportunity for young family business," says Patience Arinaitwe, Director and Founder Vegesentials Ltd.
All Natural Freshness, L.L.C. was founded by Gerald Ludwick, a respected expert in HPP technology. Mr. Ludwick is actively involved in improving the HPP technology, currently working with the Department of Food Sciences at the University of Guelph, Ontario, to determine the most effective methods in HPP to eliminate food-borne bacteria without compromising the taste, texture, or nutritional value of fresh fruits and vegetables.
As a consultant for Garden Fresh Gourmet in Ferndale, Michigan Gerald Ludwick gained tremendous insight into the makings of the most successful award winning All Natural Salsa. "Having worked with Jack Aronson, Founder of Garden Fresh Gourmet, I see the same passion in Patience Arinaitwe's Vegesentials cold pressed juices. They both have a demand for excellence," notes Ludwick. "The Vegesentials story is something you just want to get behind and support; once you try the fruit and vegetable blends you understand the talent Patience has for making juices that are as good as they are healthy."
All Natural Freshness will be producing the juices in both Michigan and California for distribution across all North America.