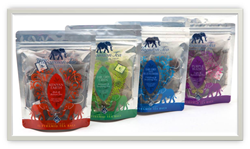 It was a real pleasure to work on this project with the Williamson team and assist our client in finding exactly the right packaging solution for their brand
(PRWEB UK) 19 February 2016
Williamson Tea is a fifth generation tea farming business committed to growing the highest quality sustainable teas to the benefit of Kenya, its communities, wildlife and environment. The Alexir Partnership have been successfully producing their stylish tea carton packaging on silver Metpol board for over 10 years and the brand has gone from strength to strength in Waitrose and online. At the beginning of last year the brand team at Williamson approached Alexir with a plan to expand their current loose tea and FUSO teabag range.
The challenge for Alexir as packaging specialists was to create a concept for the brand which enhanced product visibility on shelf but remained consistent with the existing range. With a network of worldwide manufacturing partners the Procurement team at Alexir have access to a multitude of packaging solutions for their customers. Their technical knowledge and working relationships with specialist packaging manufacturers around the globe culminated in the creation of a stand-up Doy pouch in a fittingly elegant design.
The Doypack-style stand-up pouch is extremely practical and robust packaging which is gaining in popularity for a broad range of products including skin care and cleaning products, tea, coffee, pet food, soups, sauces and confectionery. When compared to flat pouches with the same format, a greater filling volume can be achieved with this pouch type. In addition, the vertical stability of the pouch ensures ideal positioning and presentation at the point of sale. This popular stand-up pouch style is the most impressive driver in the flexible packaging market and addresses the needs of today's market and the trends of tomorrow.
The design team at Alexir combined a laminated metalized PET and a natural PET material to create a re-closable stand-up pouch that keeps both bagged and fresh tea for longer. The front of the pack remained transparent for enhanced product visibility whilst the back kept its foil identity, in line with the rest of the range. The team at Williamson have been very pleased with the extension to the range and early rates of sale indicate the customer's acceptance of the new packaging format. The Alexir Partnership is in an enviable position to be able to offer brand owners both short-run digital work ideal for new product launches and long-run gravure printing through their global manufacturing partners.
"It was a real pleasure to work on this project with the Williamson team and assist our client in finding exactly the right packaging solution for their brand, whilst ensuring through our global network of manufacturing partners that we delivered a commercially viable product." Mark Avery, Purchasing Director, the Alexir Partnership.
The Alexir Partnership will have a selection of the Williamson Doy pouches on their stand at the Packaging Innovations Show at the NEC, Birmingham on 24-25 February. Visitors are invited to come to their stand G38 in the Co-Pack zone and talk to one of the team.
About the Alexir Partnership
The Alexir Partnership is always pushing forward and leads the way in innovation in the food packaging industry. Not only do they manufacture over 250 million cartons a year but they also have a specialist department (Alexir International) with staff in both the UK and China providing strategic global sourcing to help clients meet their ever-changing packaging needs. In addition, Alexir also run a highly successful food co-manufacturing plant making them a unique 'design to delivery' packaging provider. Recent investment in new machinery at their co-manufacturing plant includes a Doy pack filling line, a high-speed horizontal form fill and a seal flow wrapping line. This capital expenditure further demonstrates the commitment of the Alexir Partnership to lead the way in innovation whilst meeting the needs of a rapidly changing marketplace.
About Williamson Tea
Williamson Tea is a family owned business with over 140 years of experience in the art of growing fine teas. As farmers all their teas are grown sustainably, with complete transparency, from bush to cup. Their foundation ensures that all their people work and live in good conditions, earn a decent living wage and that their land is managed so that future generations can continue to enjoy the benefits of fertile soils and ancient wild forests.
For more information about the Alexir Partnership:
Claire Summersby
Marketing Manager & Head of Innovation
The Alexir Partnership
csummersby(at)alexir(dot)co.uk
01732 866681
http://www.alexir.co.uk