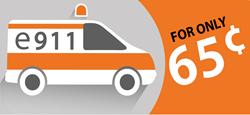 E911 is a required service and while customers are registering their DIDs they can go ahead and take advantage of obtaining this additional feature at a low price. -- Jason Tapolci, President of VoIP Innovations
Pittsburgh, PA (PRWEB) February 16, 2016
VoIP Innovations, a premier wholesale VoIP carrier, announced today that they began offering a special promotion featuring 65¢ E911 services on newly registered DIDs. This time-limited promotion will end on March 31, 2016, though the 65¢ special pricing will remain throughout the life of the DID.
"As the VoIP industry continues to grow in popularity, we are striving to target a wider audience of resellers as well as those who are brand new to the VoIP industry. E911 is a required service and while customers are registering their DIDs they can go ahead and take advantage of obtaining this additional feature at a low price," says Jason Tapolci, President of VoIP Innovations.
While saving money on E911 services is excellent, the included features make all the difference. Customers can manage costs by having On-net and Off-net numbers in one location, offer unique end user alert notifications, integrate seamlessly with our API, and gain access to comprehensive reporting including E911 usage, history, cost, and revenue.
VoIP Innovations can assist customers with provisioning E911, setting up alerts, registering numbers, using E911 in the BackOffice, handling rogue E911 charges, and more. Mandated by the FCC, interconnected VoIP service providers are required to offer E911 to their end users.
About VoIP Innovations:
VoIP Innovations is an Inc. 5000 company that specializes in providing the largest DID and termination VoIP footprints in North America. Their network includes over 500,000 DIDs in stock in over 8,500 rate centers in the US and Canada. Recently, VoIP Innovations expanded their footprint to include DIDs in over 60 countries and now offers A-Z termination. VoIP Innovations is owned by ABG Capital and is based in Pittsburgh, PA. To learn more, please visit the VoIP Innovations' Blog.